'The Big Bang Theory' recap: And baby makes me terrified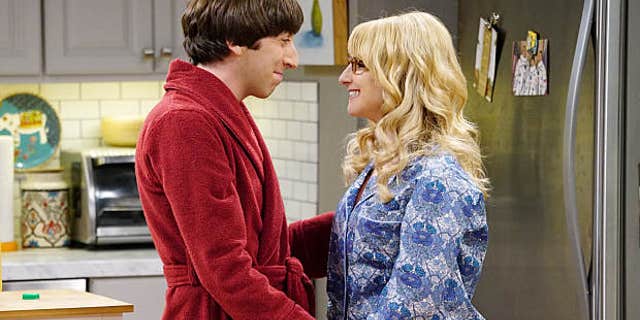 Baby Wolowitz was conceived…in Sheldon's bed!
Bet let's not get ahead of ourselves.
Howard finally learned that he is about to become a father on this week's all new episode of "The Big Bang Theory."
In "The Positive Negative Reaction," Bernadette delivered her big news in the most romantic way possible — by spreading Post-It notes around the kitchen.
Howard is overjoyed at first with the prospect of priority boarding at airports and entry into the family airport at the mall, but quickly begins to panic.
"Can we afford a nanny? We can't get a pretty one because it will wreck our marriage. And we can't get an ugly one because it will scare the kid."
And he isn't the only one panicking.
While Leonard and Raj offer congratulations, Sheldon is concerned the addition of a new human to their circle will interfere with comic book night and trips to Disneyland.
"This changes everything!" he insists.
While Bernadette shares her news with the girls, the guys head out for celebratory drinks.
Howard continues to stress about everything from the cost of raising a child to the size of his nose. "What if he looks like me — or worse, what if she looks like me."
Sheldon ends up hammered and pees in the bar kitchen while Howard continues to dream up get-rich-quick schemes.
Meanwhile, Bernadette decides to share her story about the night Baby W was conceived. The girls dip their feet in the hot tub (no full submersion for mama-to-be) and receive a "drunk text" from Sheldon.
"Would you like to sing karaoke with us," the text reads.
Bernadette: "How is that a drunk text?"
Amy: "He used a period instead of a question mark. He is so wasted."

The girls make it to the bar just in time for Raj and Leonard "Bust A Move."
Karaoke nonsense ensues with the gang taking turns at just about every known song with the word "baby" in it.
It's only while Howard is serenading his wife with the Paul Anka classic "(You're) Having My Baby" that Sheldon learns the news about exactly where the child was conceived.
"You're kidding," he yells out. "What kind of maniacs have coitus in someone else's bedroom?"
Naturally all the baby talk leads Penny and Leonard to wonder perhaps they, too, are ready to become parents.
"I think we would make amazing parents," Leonard says.
"On the other hand," Penny admits, "We might lack a certain maturity."