'The Bible' creator praises the Pope for pro gay comments, talks series success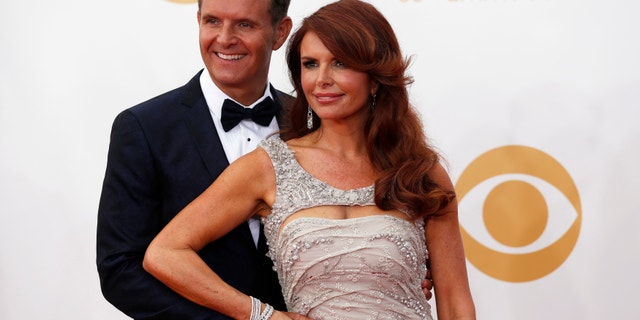 LOS ANGELES – Last week, Pope Francis made headlines when he stated that the Catholic Church has become too focused on "small-minded rules" regarding controversial issues like homosexuality. And Roma Downey, the co-creater of History Channel's mega-success "The Bible," is praising his message.
"I think the Pope is a real blessing to the world," she told FOX411 at The Hollywood Reporter's soiree to celebrate the Emmys and the new fall season of television. "He's brought in some new hope, healing and grace with his desire to focus on loving each other and surely that is what Jesus taught us. I think he's a Pope of Hope."
Downey, along with her famed reality producer husband Mark Burnett, lined up their own finances to produce the mega ratings success mini-series "The Bible" for the History Channel, which earlier this year became the most downloaded series on iTunes. While it cost $22 million to make, the series was a gamble, and the through-the-roof viewership came as a surprise.
"You know that there would be an audience for it, I have to be honest and say the fact that 100 million people turned in was a very sweet, pleasant surprise," she continued. "And absolutely there were challenges along the way. First and foremost, we only had 10 hours to bring 'The Bible' to the screen, so it was hard to select which stories would make it in. We knew it was a big responsibility to bring the bible to television."
But some of those unseen biblical stories are about to make it to the air. The producers recently struck a deal with 20th Century Fox to resurrect Jesus for an expanded feature film entitled "Son of God."
"It follows the life and the death and resurrection of Jesus with the emphasis on the resurrection," Downey said. "It is an upbeat, beautiful and powerful story about the Lord, and I think people will leave feeling uplifted and inspired."
And despite the general consensus that Hollywood is a predominantly God-bashing community, Downey assured us that the reality is quite different.
"My experience is that there are more Christians in this town than you would imagine and having made the series has given people permission to speak about faith," she observed. "People are reacting to us by stepping up to us with a handshake and saying thank you for making the show and sharing that it has touched their lives. It has brought us together in faith."
Although "The Bible" failed to take home the Emmy this year for Outstanding Miniseries or Movie, which instead went to the Liberace-centered "Behind The Candelabra," Burnett was a winner in a different genre. His creation "The Voice" took home the coveted statue for best reality competition series, and he used the opportunity to stress some good morals: Singing competitions don't need to embarrass or make fun of contestants in order to draw eyeballs, he noted.
"People said these shows would never work without humiliation, and that's not true. Americans love kindness and great music," Burnett added backstage. "We really appreciate the press support of acknowledging that this is a kind show."
Danielle Jones-Wesley contributed to this report