Ten Dumbest Things Celebs Said in 2010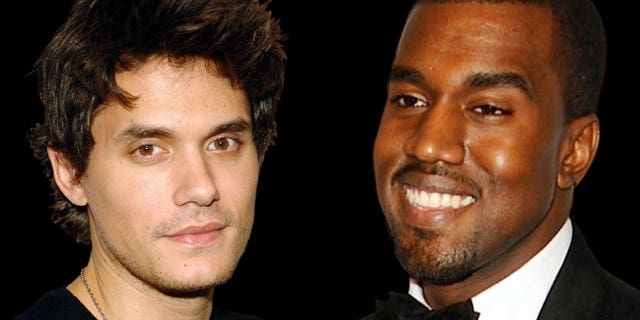 When celebrities open their mouths, sometimes we listen, but other times, we just laugh.
So which stars made the biggest fools of themselves this year by saying the stupidest things?
Let's count 'em down!
10. Mark Wahlberg. "The Fighter" star had a strange answer when asked who was his "sexiest" superhero.
"Probably the little kid from 'Kick Ass,'" he told Pop Tarts at the Comic Con Convention in July.
Ummm, Mark – "Hit Girl" from "Kick Ass" is 10 years old.
9. Prince. The legendary entertainer must have had moguls, executives, celebrities, world leaders and regular folk losing sleep due to stress earlier this year when he declared worldwide web's days were numbered.
"The Internet's completely over," Prince told the U.K's Daily Mirror. "I don't see why I should give my new music to iTunes or anyone else. They won't pay me an advance for it and then they get angry when they can't get it."
You've got to give it to someone Prince, or nobody will hear it!
Sheesh.
8. Kanye West. After apologizing profusely throughout 2010 for grabbing Taylor Swift's spotlight at the 2009 Grammys, Kanye West did an about face and complained that, after he dissed her onstage, he was disappointed that Taylor Swift "didn't have my back."
Why would she have his back? He's the one who humiliated her!
Talk about living in a fantasy land.
7. Pink. Just last month the pop/punk princess, who is currently pregnant with her first child, advocated support for bashing children as a means of discipline.
"I think parents need to beat the crap outta their kids," she told Access Hollywood. "I think the whole spanking thing and how it's gotten all PC is for the birds… [My dad] put me through a wall; it's the only reason I'm still alive."
Watch your back Pink Jr.!
6. Ke$ha. Let's hope this 23-year-old emerging pop star sticks to partying and performing, and doesn't follow the Hollywood trend of getting all political. That could be quite a problem.
"I actually don't read anything, because I feel like the haters really like to hate out loud, [and] that people who love sometimes love quietly. So I don't really listen or look at anything," she told MTV News in May.
Love quietly Ke$ha, love quietly.
5. Taylor Momsen. While the rest of Hollywood offered time, money, and sincerest condolences to the victims of the Haiti Earthquake in January, "Gossip Girl" starlet Taylor Momsen announced that she had better things to do.
"Right now I'm trying to just finish my record and getting through the last season of "Gossip Girl" for right now," she told OK! when asked if she would follow the lead of celebs like Angelina Jolie and Wyclef Jean in supporting the cause. "So not so much thinking about that.
4. David Arquette. After revealing on Howard Stern's radio show this week that he has been turning to the bottle a little too much since splitting from wife Courteney Cox a few months ago, and that he called Tom Cruise 'Sean' while drunk at a party, Arquette decided to share with the world what he needs in a woman right now.
"[Courteney] said she doesn't want to be my mother," he continued. "I kind of need a mother right now. I need a girl to come bring me some soup and make sure I'm all right."
Soup.
He then randomly expressed desire to make babies with ex-girlfriend, Drew Barrymore.
"I know she is with Justin Long and everything, but would cool would an Arquette-Barrymore child be?" he said.
David. You're still married.
3. Gisele Bundchen. The world's highest paid supermodel gave hope to future moms all over the world when she described her experience of giving birth to son Benjamin last December.
"It wasn't painful, not even a little bit." Bundchen told Brazilian TV show Fantastico.
Yeah right.
2. Mel Gibson. Sadly, this year provided no shortage of vile Mel Gibson quotations. But one that was particularly memorable was when he insulted former girlfriend Oksana Grigorieva for not having any friends, before declaring he had no friends either.
"You don't have any f*cking friends except me, and you treat me like shi*! So that's why I'm so f*cking angry, because I don't have any friends!" he said in an audio tape that was released in July.
And now, you really don't have any friends
1. John Mayer. The famed singer/songwriter was forced to deflate his head pretty quickly this year following a candid interview with "Playboy" magazine.
"[B]lack people love me. Someone asked me the other day, 'What does it feel like now to have a hood pass?' And by the way, it's sort of a contradiction in terms, because if you really had a hood pass, you could call it a n***** pass," he said
He then called his love machine a "white supremacist," explaining that while he enjoyed the company of black women, he did not like sleeping with them.
And for that, John Mayer, you are Pop Tarts' Celebrity Who Said the Stupidest Thing in 2010!
Put it with your Grammys.