Team Behind 'Jersey Shore' Wants to Dump Snooki for Aniston, Insiders Say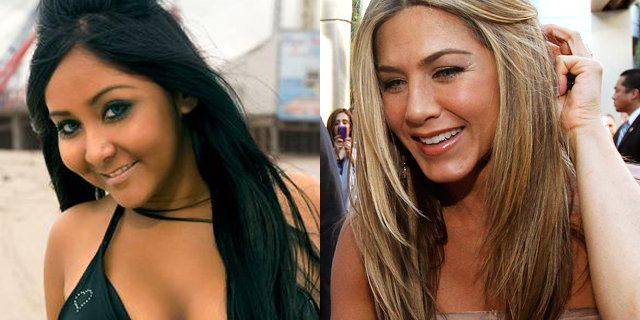 NEWYou can now listen to Fox News articles!
Can one go from herding Snooki from beach to bar to attracting the likes of Jennifer Aniston?
The team responsible for MTV's smash hit "Jersey Shore" is about to find out.
MTV programming president Tony DiSanto and senior VP Liz Gateley are leaving the network to form their own production company, and insiders tell FOX411.com they have their sights set on upgrading from D-List to A-list.
"When I saw that Jennifer Aniston showed up at the premiere for 'Hard Times of RJ Berger' in Los Angeles last summer, I was like, 'OK—something's up,'" an MTV insider tells FOX411.com. "It was very smart for Tony to align himself in that way."
"Hard Times," produced by DiSanto and Gateley, aired on MTV this year to critical praise, but the pair's exit has been in the works for a while, according to the source.
"Before the announcement that Liz and Tony were leaving MTV, I know that Tony had been hanging out a lot with (former NBC entertainment chief) Ben Silverman, so I saw it coming," the MTV source said. "They would be hanging out at the VMAs, they were all over the place. Tony's always had the goal of breaking into Hollywood—Liz, too. They were having a lot of meetings with Hollywood people. Between that and working on scripted shows, it was pretty clear that they were leaving MTV for Hollywood."
With their new production company, DiGa (an amalgamation of DiSanto's and Gateley's last names) working under the umbrella of Silverman's production company Electus, it looks like the pair are planning on tackling programming for the Internet.
"Liz and Tony aren't just about TV—they're about digital," explained the insider. "Electus' whole M.O. is about digital. Liz has a great pedigree, she comes from William Morris, she's an attorney. Tony has always liked hanging around celebrities, and Electus is a definitely power group, so makes sense that they're headed in that direction—the Internet and beyond."
A second MTV insider doesn't have such high hopes for the duo, however.
"I don't think that Liz and Tony are going to have success with their new company. I think a lot of times, executives think that it will be easy to start their own production company, and more often than not, it doesn't work for them," the source said. "It's easier to be a buyer than a seller. I would be very surprised if Liz Gately and Tony DiSanto suddenly started working with A-list talent like Jennifer Aniston. I think they got a little bit lucky with 'Jersey Shor'e—take that away from their track record, and their regime was not that fruitful."
Apparently the two were even looking to go in a different direction before "Jersey Shore" became such a huge hit.
"Their big thing was, 'Hey, we're going to do these big shows about redemption—we're going to get away from the sleaze.' The funniest thing was watching them backpedal after 'Jersey Shore' blew up," the insider said. "They had just spent the last year talking about how they were going to do all these noble shows. They were trying to spin' Jersey Shore,' 'Well, it's really about a family coming together.' But please—it's about kids getting drunk and hooking up."
But fear not, "Jersey Shore" fans—MTV will retain Tony DiSanto and Liz Gateley's talents through the end of the year.
"Tony is a producer at heart," MTV Networks Music Group executive vice president of communications Jeannie Kedas said. "The good news is that he will still have a connection to MTV, while at the same time we have a lot of good people in place on the programming side as well as a lot of shows launching over the coming year. So there's a plan in place for continued success."