'Jersey Shore' Star Snooki Is America's Accidental Sweetheart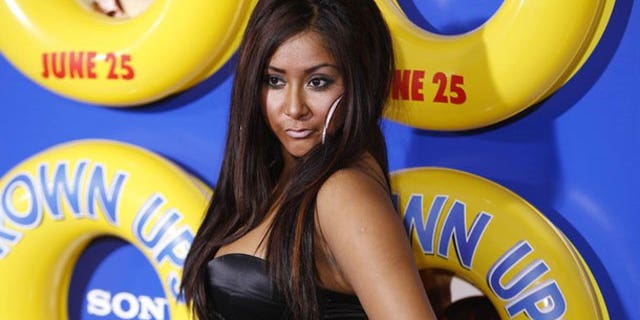 America has gone nuts for Nicole "Snooki" Polizzi, with over five and a half million viewers tuning in each week to watch her squeal, get drunk and hook-up in the second season of MTV's smash hit, "Jersey Shore."
But what it is about Snooki, a girl with no discernible talent, that has struck a chord with the viewing public? The diminutive diva is featured on the cover of not one, but two celebrity magazines this week, earns $20,000 just to show up at events and even has a line of hair products and a book deal in the works.
"I think the reason that Snooki has resonated with people is because she's comfortable in her own skin," Simple Life executive producer Kevin Lee tells Fox 411. "She's unique, and people aspire to have that sort of self-acceptance. She is who she is, and she's proud of it. There's not a lot of people out there who can be short and stumpy and proud of who they are, but Snooki is—and people root for her."
Snooki has saturated the American consciousness to the point where political figures regularly make reference to her. President Barack Obama mentioned Snooki in a speech at the White House Correspondents Association Dinner in May, while Senator John McCain famously declared that she was "too good-looking to go to jail" after her arrest on a disorderly conduct charge in July.
The pint-sized reality star's fame even extends past America's borders, where her antics are fervently watched on MTV UK and her adventures are documented almost on a daily basis on Britain's Daily Mail website.
Snooki's pal, Anthony Manfredi, AKA DJ Freezy, muses on her universal appeal, "She's just an awesome chick. She's very outgoing and loves to party—but at the same time, she's different. She's doesn't care if someone doesn't like her, or thinks she's too tan or too short—she just lives her life."
Manfredi spent time with Snooki on the Jersey Shore last year when he went to visit his good friend Paul "DJ Pauly" Delvecchio, who also stars on the show. "In her own way, Snooki's definitely attractive. Her fashion sense is a little out there— but somehow, she manages to make it look right.
"She's the hot thing right now," he adds. "In my eyes, she's the guidette version of Paris Hilton."
But Andre' DiMino, the former national president of UNICO National, an Italian-American service organization, is not as impressed.
"Watching Snooki on Jersey Shore is just like what people did in the old days—they went to freak shows," DiMino charges. "Freak shows certainly were well attended and people paid money to see them. It's a sad thing, but I think that Snooki is being used in that way because she's obviously a train wreck. She's out of control. There's no redeeming value to her actions. She's crass and she's vulgar"
But perhaps, as former "Simple Life" producer Kevin Lee, who helped socialite Paris Hilton skyrocket to fame, says, the tiny troublemaker's fame is representative of where Americans see themselves right now.
"I think that Snooki's popularity right now is a rejection of the pursuit of perfection," he tells Fox411. "People want to root for the underdog—especially an underdog who's proud of who she is. You've got to love her for it."