Taylor Swift was 'crying hysterically' after Kanye West VMA incident, ex-MTV chief reveals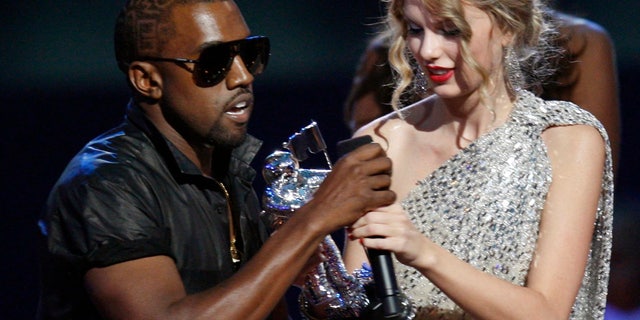 NEWYou can now listen to Fox News articles!
Former MTV Chief Van Toffler opened up to The Hollywood Reporter about the infamous moment at the 2009 Video Music Awards when Kanye West interrupted Taylor Swift on stage.
Toffler told the publication the pop star was hysterical following the shocking mic-stealing moment.

"When Kanye walked up onstage with Taylor [Swift] that year, it turned out that Taylor had to go onstage to do her song five minutes later. I ran out of the truck to see that everything was all right, and Taylor and her mom were crying hysterically," he revealed.
West interrupted Swift's speech saying, "Yo, Taylor, I'm really happy for you -- I'mma let you finish -- but Beyoncé had one of the best videos of all time! One of the best videos of all time!"
Toffler said the Swifts weren't the only ones in tears after West slammed the singer's Best Female Video win.
"I'm not always wonderful with emotions. I didn't know what to say. Then I went backstage, and Beyoncé was crying too," he revealed.
Later that evening, Beyoncé won Video of the Year and brought Swift onstage to finish her acceptance speech. But ever since the incident, West and Swift have had a rocky relationship.
It seemed to two were on good terms, but their relationship soured after the 2016 release of West's song "Famous," in which he rapped "I feel like me and Taylor might still have sex, Why? I made that bitch famous."
He said he spoke with Swift about the lyric on the phone ahead of the song's release. She denied the exchange, and West's wife Kim Kardashian later released a recording of West speaking with Swift, during which he asked her to approve the lyric.
The recording briefly hurt Swift's good girl image.
And she has been mostly inactive on social media in recent months.