Sundance: Eagles insist 'bitter feuding' didn't really happen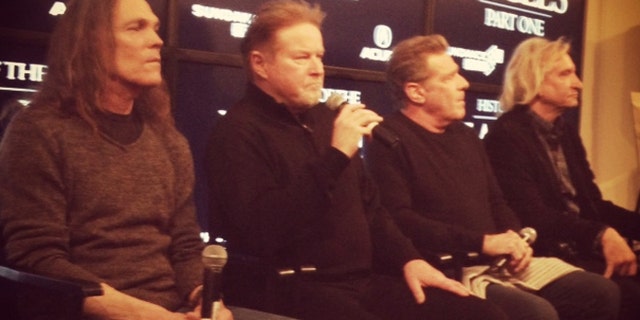 Park City, Utah – Four decades of press coverage surrounding legendary band The Eagles has largely centered on their intense dislike for one another. However, the band members -- who all turned out together in Park City over the weekend to premiere their documentary "History of the Eagles" -- assured us that the coverage was skewed.
"I call it the 'conflict of journalism' which focused on our fighting," Don Henley told FOX411's Pop Tarts column, adding that even die-hard fans might be surprised to learn that such a public perception is far from accurate.
Joe Walsh also chimed in that the "bitter rivalry" so often reported truly didn't take place.
"We argued a lot, we had discussions," he explained. "But there was a great camaraderie between us... We had a great time trying to make it."
"The History of the Eagles" is being billed as an intimate work woven of rare archival material, concert footage and never-before-seen home movies that explore the evolution and enduring popularity of one of America's defining rock bands. It has also already been acquired by Showtime and is slated to air in two parts next month.
"We've been reliving our lives the last two years while we worked on this. I was reminded of how much fun we had," said Glenn Frey. "We were young, we made mistakes. We still make mistakes."
But why now? Why 42 years after bursting onto the California music scene did the band decide to document their inner workings for the world to see?
"We thought it was time. We haven't been over-exposed, there is a lot left to the imagination," Frey said, while Henley added The Eagles were a notoriously private group, rarely allowing the press to infiltrate.
Now all of that is about to change...