'Suits' star Gabriel Macht spills secrets on season 5B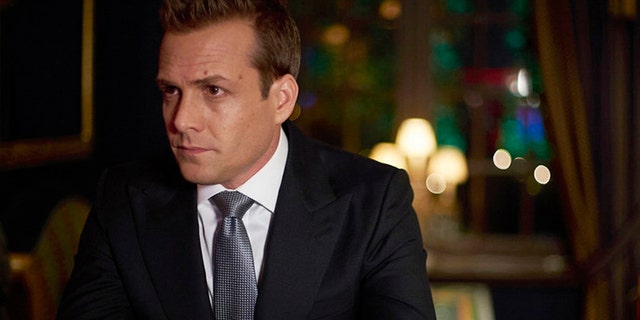 NEWYou can now listen to Fox News articles!
The first half of season 5 of "Suits" left off with Mike Ross being arrested leaving Harvey Specter, and fans, in complete shock. With the state of the firm and Mike's freedom in jeopardy, FOX411 spoke to Gabriel Macht, who plays Harvey, about what we can expect in season 5B.
FOX411: Were you as shocked as fans were at the end of last season when Mike Ross was arrested? When did you find out?
Gabriel Macht: There was talk about it early in the shooting of last season in like episodes 4, 5 and 6 we started talking about it. So we had an inclination that the potential was there for it to happen. Nothing happened until we're actually shooting it and so I think everybody, as far as the ensemble and the crew, were really excited and thrilled once we shot Mike getting arrested and Harvery quitting the firm. And then when we saw that and were like, "[The writers] did an awesome job."
FOX411: How will your character, Harvey Specter, react to the situation in season 5B?
Macht: I think he has been through a very tumultuous time in his personal life and with the firm. He's sort of been the sacrificial lamb in that he doesn't want to sacrifice Jessica and the entire firm so he's taken it upon himself to be that guy and start over and he believes in himself to make a new way. When he hears that Mike has been arrested, I think inside of him, the ground has been pulled out from under him but on the outside, he's in go mode and figuring out a way to come back and defend Mike because ultimately, the state is after Mike...but as we slowly learn the prosecutor has it out for Harvey, Jessica and Louis as well and feels we've gotten away with too much in our careers. She wants to get to the heart of the situation.
FOX411: "Suits" creator Aaron Korsh said the rat is someone we've met before. Can you give us any clues?
Macht: I can't really give you clues. Here's what I can say: You've seen this person in the last 5 seasons. They've definitely walked in the halls of Pearson Specter Litt. There is a strong connection to some of the characters and I was surprised [when I found out who it was.] I was like, "Okay, we'll see how the writers deal with that." I think they've connected the dots and you feel for the characters. It affects all of us.
FOX411: In real life, you and actress Sarah Rafferty, who plays Donna, have been long-time friends. Was it weird when you two had an on-screen romance?
Macht: Well, I don't see them as being romantic. I see them as having a one time fling and I know it can be perceived by some fans that these people are secretly in love with each other and may be not dealing with it, but I see them as, you know, Donna is Harvey's right-hand woman. Let's see how that plays out. It does become difficult at times for us because we like to laugh, we just sort of make fun of each other and laugh [on set.]
FOX411: Your wife, Jacinda Barrett, and father, Stephen Macht, have both appeared on "Suits." What's it like to work together?
Macht: My dad is in the next episode, he plays Professor Gerard. It's always fun to have my father up there working with us. Hopefully he'll be back in the same way this season.
FOX411: "Suits" was renewed for season 6. How many more seasons can you see yourself playing Harvey?
Macht: Yeah, I mean, I don't know how long we'll play these characters. I can tell you that playing this character has been for me, I've been super appreciative of the opportunity. The appeal of [playing] the guy with hidden strengths and many, many flaws has become something that fans from around the world can relate to this guy in some way. Whether it's the aspirational version or just the person that they relate to. So, it's been a joy for me to get inside of this guy and make him as complicated and complex as we can...We'll see, we're definitely going to do it for a sixth season. Maybe we've got a seventh season after that. As long as the fans are watching and they want to continue to see the family of characters and how we all deal with each other, we'll go on.
Season 5B of "Suits" airs January 27 on USA.