Steven Tyler Act stalls in Hawaii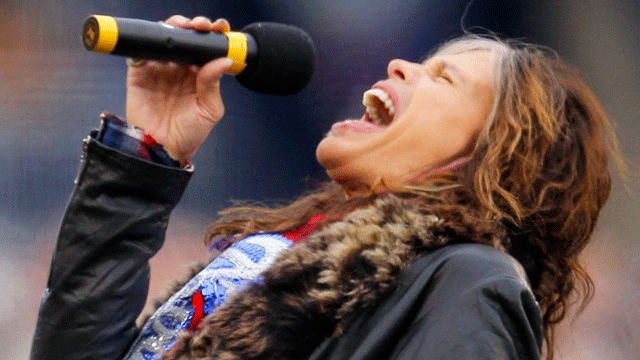 The future is looking bleak for a celebrity privacy bill in Hawaii known as the Steven Tyler Act.
The proposal pushed by the Aerosmith lead singer would allow people to sue others who take photos or videos of their private moments. But after sailing through the Senate earlier this month following personal testimony from Tyler at a February hearing, the bill is missing deadlines in the state House, and key lawmakers say they won't push it through.
Rep. Angus McKelvey, of Maui, the chairman of the first of three House committees the bill needs to pass to get to the House floor, said he won't hold a hearing for the bill.
"There is zero support for that legislation in the House of Representatives," McKelvey, chairman of the consumer protection committee, told The Associated Press. "To say there is absolutely zero support would be an understatement."
The bill already has missed one internal House deadline to be considered. A second internal deadline to hear the bill is on Thursday.
House Chief Clerk Brian Takeshita said the leaders of the committees on consumer protection, judiciary and finance could get around the deadlines if all three agree to put in a joint request to House Speaker Joseph Souki.
But McKelvey said that's not going to happen.
"There is a better chance of people flapping their arms and flying from Lanai to Maui," he said.
If the committee leaders don't want to entertain the bill, the House speaker can decide to refer the bill to another committee, Takeshita said.
But Souki told the AP he doesn't plan to override McKelvey's decision.
Because of Hawaii's biennium Legislature, if the bill doesn't get a hearing this year it can still pick up where it left off in the session next year. The bill would be able to skip Senate proceedings and go straight to the House committees for consideration.
McKelvey said he has sympathy for Tyler and other celebrities whose privacy rights have been violated. But there are enough legal avenues available to them, including taking the issue to court because privacy is protected in the Hawaii constitution, he said.
Tyler, who owns a multimillion dollar home on Maui, earlier said he asked Sen. Kalani English, from Maui, to introduce the bill after someone photographed him with his girlfriend at his home in December.
Along with Tyler, rock legend Mick Fleetwood, who has restaurant in McKelvey's district, personally appeared to urge lawmakers to pass the bill. Their appearance generated buzz in the state Capitol, as staffers snapped cellphone pictures of the stars and compared them in the hallways after the hearing.
Britney Spears, Avril Lavigne and several other high-profile celebrities also submitted written testimony in favor of the bill.
National media organizations have staunchly opposed the proposal, saying it would limit freedom of the press.