'Spider-Man' Musical Hanging By a Thread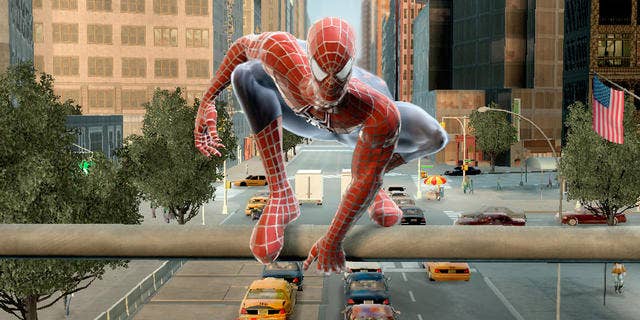 The fate of Broadway's most expensive accident-prone musical is in limbo as producers try to rejigger their high-flying stunts in time to satisfy safety investigators and reopen.
Producers canceled a Wednesday matinee performance of "Spider-Man: Turn Off the Dark" after Monday evening's 30-foot plunge of a Spider-Man stunt double into a stage pit.
State investigators weren't sure whether the equipment, the rigging or the performer caused the fourth accident in the troubled show. Actors' Equity Association called it human error, but Leo Rosales, a spokesman for the state Department of Labor, said the cause was under investigation.
Rosales said the show's producers would present the new safety protocols on Wednesday. If the measures are inadequate, he said, the state will not let the show perform the complicated aerial maneuvers.
"If it takes longer, it will need to take longer," he said of the show's timing. "We need to be satisfied."
The musical, which started previews a month ago without benefit of an out-of-town tryout, could be put in jeopardy if certain aerial actions aren't allowed; it would lose some of its razzle-dazzle.
Monday's performance of "Spider-Man: Turn Off the Dark," the most expensive production in Broadway history, ended just minutes before its curtain when Christopher W. Tierney, a stuntman playing the superhero, fell into the stage pit. The safety tether that clips to his back failed to prevent the spill.
Tierney was wheeled out of the Foxwoods Theatre on a stretcher, still in his costume, and taken by ambulance to Bellevue Hospital with minor injuries. An uncle in Florida, Michael Tierney, said Tuesday that he spoke with his nephew by phone.
"He sounded pretty good," Tierney said, adding that when he spoke with him Christopher Tierney was still at the hospital.
The injured man's brother told New Hampshire media outlets that Tierney said the accident happened when someone dropped a tether.
Patrick Tierney told the Portsmouth Herald that his brother is "really hurt" but is expected to make a full recovery. He said his brother was scheduled for back surgery Wednesday.
Christopher Tierney, who appeared in the national tour of "Moving Out" and in "Dirty Dancing" in Toronto, is the show's main aerialist and performs stunts for the roles of Spider-Man and the villains Meeks and Kraven the Hunter. The cable to his harness apparently snapped, said a castmate who spoke on condition of anonymity because the performer was not authorized to speak publicly about the show.
"An accident like this is obviously heartbreaking for our entire team and, of course, to me personally," said Tony-winning director Julie Taymor in a statement. "I am so thankful that Chris is going to be all right and is in great spirits. Nothing is more important than the safety of our Spider-Man family and we'll continue to do everything in our power to protect the cast and crew."
The fall was the latest setback for the troubled $65 million show.
Conceived by Taymor and U2's Bono and The Edge, who wrote the music, "Spider-Man" has been more than eight years in the making. It has been plagued by delays, money woes and three other accidents, including one in which an actress suffered a concussion and another in which a performer broke his wrists in an aerial stunt. Its official opening has been postponed twice, to early February.
The huge costs -- a 41-member cast, 18 orchestra members, complicated sets and 27 daring aerial stunts, including a battle between two characters over the audience -- mean the 1,928-seat theater will have to virtually sell out every show for several years just to break even. The weekly running bill has been put as high as $1 million. (Tickets are $67.50 to $135 for weekday performances, $67.50 to $140 on weekends.)
One audience member who attended Monday's performance, Brian Lynch, said he knew of the previous mishaps and still wanted to come.
"I was making jokes about it earlier in the day," said Lynch, visiting from Hollywood, Calif. "I said if anyone got hurt I was ready to jump in and help out. I never thought it would happen, I thought they probably worked it all out. I really didn't think it would happen like it did. It was pretty horrific."
The accident happened during the show's big finale, when the Green Goblin drops Mary Jane and Spider-Man leaps to her rescue.
"But then he just kept falling, it seemed, and then everything went dark and then people, crew ran up to the stage and we heard the girl playing Mary Jane screaming from the pit," Lynch said.
It is not unusual for Broadway shows to experience mishaps and accidents during previews or out-of-town tryouts, where producers try to work out all problems before bringing a show to New York. Other Broadway shows have struggled with getting their sets and stunts to work during previews, including "Mary Poppins," whose house set went off track in 2006, and "Titanic," which was plagued by numerous technical problems during a month of previews in 1997. Both were hits.
And while "Spider-Man" has been unusually accident prone, many stage performers have suffered injuries over the years.
Legendary actress Sarah Bernhardt hurt her knee while jumping off a parapet in a performance in Rio de Janeiro in 1905. The leg never healed properly and was amputated 10 years later. Mary Martin, who was hoisted on a wire as Peter Pan in the 1950s, broke her elbow slamming into a concrete wall during a rehearsal.
More recently, Idina Menzel fractured a rib falling through a trap door in a 2005 performance of "Wicked" on Broadway. Also in 2005, Christina Applegate broke her foot during out-of-town previews for "Sweet Charity."
In February 2009, Kathleen Turner injured her knee while performing in an off-Broadway comedy called "The Third Story." She returned to the production with a leg brace and a cane.
Last week, the show's lead producer, Michael Cohl, delayed the official opening of "Spider-Man" for the second time, pushing it back from Jan. 11 to Feb. 7. He cited "some unforeseeable setbacks, most notably the injury of a principal cast member."
The first preview on Nov. 28 did not go well. The musical had to be halted five times because of technical glitches, and actress Natalie Mendoza, who plays Spider-Man's evil love interest Arachne, was hit in the head by a rope and suffered a concussion. She was sidelined for two weeks.