Source: Tina Simpson 'losing it' as reports swirl her estranged husband had relationships with young men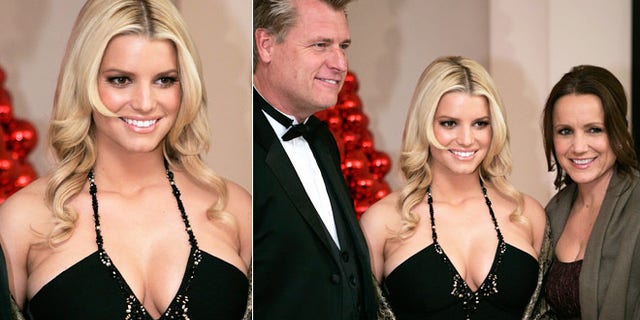 After a series of bombshell reports surfaced over the past days about Jessica Simpson's dad Joe Simpson's secret relationships with men, FOX411 is hearing disturbing news about his estranged wife Tina's state of mind.
"She's gone completely crazy," a longtime friend of Tina's told us. "She's been hearing the rumors about Joe for a long time now. She's living with Jessica, because the situation with Joe became unbearable."
The insider said Tina has asked Joe to admit his relationships, but he refuses.
"It's like when someone is lying to you and you can't catch them in the act. It's making her crazy," the source said. "She's been screaming at Joe and basically he takes it, denies it, and it's making Tina worse. She wants to know the whole truth. She is losing it thinking she's been living a lie. Jessica and Ashlee are grown now, and Tina is alone and has to start a new life."
Several reports have stated that Joe, 54, a former minister, has been having affairs with much younger men.
On Sept. 24, Tina filed for divorce in Texas, citing "discord or conflict of personalities" as the cause.
A rep for the Simpson family released a statement to FOX411 at the time claiming that there was no third party involved in the split.
"It is an amicable split and there is no third party involved. Any other related allegations are completely false. The family appreciates your respect for their privacy at this time," the statement said.
However, it appears Tina had created major distance between her and her husband many months ago.
"They have been living completely separate lives for a long time," says the family friend. "It's making Tina sick with worry to think who's going to be coming out with stories."
The source said that Joe began to spiral when his management career took a downslide when Jessica's singing career hit the skids, and that Tina's only got better because she handles Jessica's successful clothing line.
"They've been on the rocks for a long time and Joe is no longer in charge of much," says the source. "Jessica was clueless about all this while she was with Eric and getting ready for the baby."
Jessica Simpson gave birth to her first child, daughter Maxwell Drew Johnson, on May 1.
The source adds that the story could get "very tricky" because Tina fears younger men are going to come out with stories of being sexual with Joe and adds that Tina believes when Joe was arrested Aug. 4 in Los Angeles on suspicion of driving under the influence, that he had been driving with a male passenger.
Joe pled not guilty to the charges.
A rep for Joe and Tina Simpson did not return repeated requests for comment for this story.