Source: Jackson family 'imploding' as members struggle for control of King of Pop's kids, estate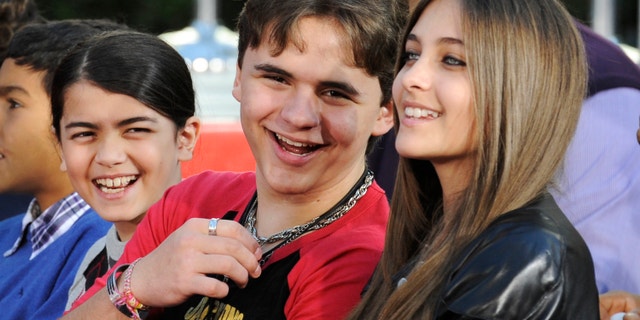 LOS ANGELES – Days after Katherine Jackson was reported missing by a family member, then found by police in Arizona with another family member, a family insider tells FOX411 Jackson family has "imploded," and that the late King of Pop is starting to "look more and more like the normal one" in the tumultuous family.
The L.A Sheriff's department showed up at the Jacksons' Calabasas compound Monday to answer a family disturbance call that Janet, Randy and Jermaine Jackson were attempting to remove the children from the home against their will. No arrests were made, but police rep Steve Whitmore said a report was taken and that an investigation is underway regarding an alleged misdemeanor battery.
Katherine Jackson's attorney told us her version of the events that transpired at the house.
[pullquote]
"Certain Jackson family members ambushed Katherine Jackson's home after their vehicle tore through security gates on the tails of the SUV containing Michael Jackson's children. After exiting their vehicles, Jackson family members ran up to Michael's children as they yelled and began to aggressively grab at the cell phones in their hands," Katherine Jackson's legal rep Sandra Rivera told FOX411's Pop Tarts column. "Out of concern for the well being of Prince, Paris, and Blanket Jackson, the children were forced to temporarily leave their home and taken to a safe location. An altercation ensued shortly thereafter and law enforcement arrived at the scene."
Rivera said that following the incident, one of the family members who was part of the ambush admitted that a plan has been in place for the last three years to remove Katherine Jackson from her home and her grandchildren, of whom she is the legal guardian.
"Prince, Paris, and Blanket Jackson have not heard from their grandmother since she left their home nine days ago to attend a series of her sons' concerts on their Unity Tour. She never made the shows," Rivera continued. "Despite efforts to interview Katherine Jackson at her current location in Arizona yesterday, Los Angeles County Sheriffs confirmed that they were denied access to Mrs. Jackson by security for one of her children."
Our source said the family dispute comes down to one thing: cold hard cash.
"These are grown adults, and all of this is terribly embarrassing, and it all comes down to money," the insider said. "When Janet, Randy and Jermaine went to the house, the mission was to take [the kids'] computers and electronics and limit their contact with the outside world. They don't want them tweeting and they don't want the world to know what is really going on."
According to TMZ, Janet went so far as to slap Paris, screaming, "You're a spoiled little bitch!" The website reported that the teenager fired back with her own slap and told her famous aunt, "This is our house. Not the Jackson family house. Get the f**k out!" Other
But even though the Jacksons' turmoil has been splashed over the Internet and TV, our insider said Katherine Jackon has no clue any of it is even going on.
"Katherine really doesn't know about all this drama, the tweets and how this is all over the news," said the source. "She just thinks they are with her nephew Trent, and are doing fine while she is on a vacation."
But on Tuesday, a clearly far from fine Paris, 14, tweeted with regards to her grandmother's disappearance: "9 days and counting… so help me god, I will make whoever did this pay."
TJ Jackson, her cousin and the son of her uncle Tito, also tweeted to Paris: "I know it's completely unfair for them to do this to you and your brothers. We will keep trying. I love you."
We're told that TJ has been helping Trent care for the kids in Katherine's absence, and as the estate executors are reportedly in the process of drafting legal documents in support of a temporary guardian, TJ is likely to be awarded temporary guardianship as appointed by the court. If granted, Michael's kids will apparently move into TJ's nearby Calabasas home that he shares with his wife and two young children.
"TJ has their back, he is on the side of the kids and the estate," continued the insider.
The executors did not respond for comment as to whether a temporary guardianship request is in motion.
But TJ isn't the only relative in the Calabasas area. We're told Debbie Rowe, the biological mother of Prince and Paris, is now temporarily living with a family friend less than a mile away, and even paid a visit to the children early Tuesday following the dramatic altercation outside the family compound.
"Debbie went over to support and encourage them," added the source. "Their relationship with her has really gotten a lot stronger over the past 18 months."
As the saga continues, family members have taken to TV interviews to tell their sides of the story. An emotional Marlon Jackson told The Insider on Tuesday that "somebody made the decision that my mother cannot talk to me, and whoever that person is, they've got to answer to me."
Meanwhile Randy appeared on MSNBC to proclaim that Katherine is fine, and that the siblings went to Calabasas to let the children know that they can visit with her or talk to her at anytime. He went on to say that this isn't about the money or being left off Michael's will. He said the drama is meant to deflect attention from the letter some of the Jacksons sent, insisting that executors John Branca and John McClain resign under allegations of falsified documents.
Rivera did not respond to a request to confirm that the estate was seeking a temporary guardian, or that Rowe visited the home.
Reps for Janet Jackson, the Jackson brothers and Debbie Rowe did not respond to a request for comment.