Singer Dionne Warwick says it's 'about time' women in music are recognized for 'doing incredible things'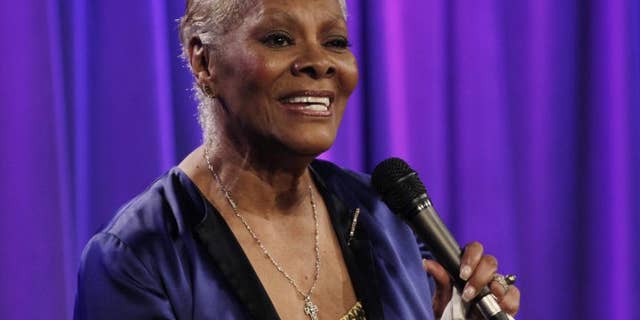 LOS ANGELES – The 61st annual Grammys celebration saw its fair share of leading ladies cleaning up the competition, and legacy singer Dionne Warwick thinks the acknowledgment women received this year is long overdue.
DIONNE WARWICK OWES NEARLY $10 MILLION IN BACK TAXES
"It's about time. That's what I can say about that," Warwick told Fox News Sunday on the Grammys red carpet in Los Angeles. "It's quite interesting that the actual overlooking of women for so many years – somebody actually opened up both of their eyes and said, 'Uh oh. The women are here, aren't they? And they're doing incredible things, aren't they? It's very exciting, isn't it? We better open that door and let 'em in, because they're gonna bust it down.' And that's what we did."
THE MOST BEAUTIFUL AND OUTRAGEOUS 2019 GRAMMYS STYLES
Warwick, 78, a five-time Grammy Award-winner herself, was presented with the Lifetime Achievement Award on music's biggest night, an accolade she said was exceptionally special to her. "It's a very exciting time anytime any Grammy is given to you, but this one especially," Warwick lamented. "It means that I must have done something right."
CLICK HERE TO GET THE FOX NEWS APP
Another Grammy honoree for this year, producer and record executive Lou Adler echoed Warwick's sentiments on the carpet, telling us that women in the music business should have been recognized "a long time ago."
ARETHA FRANKLIN BLASTS DIONNE WARWICK: 'SHE BLATANTLY LIED'
"Oh, that's important. It's too long – they should have been recognized a long time ago," said Adler, 85. "There are some great songwriters – I worked with one, Carole King. It's about time, and I think the doors are starting to open – and the nice thing about it is that they know what they're doing. So, when the doors are open, they'll show what they are."
SEE ALL THE 2019 GRAMMY WINNERS
Sunday's ceremony saw 31 women take home the coveted hardware, with Kacey Musgraves, Cardi B, Lady Gaga, H.E.R. and Brandi Carlile leading the charge as the night's big winners. In short, girl power and inclusivity were in full effect.
KACEY MUSGRAVES ON IF GRAMMY WINS WILL HELP GET HER MUSIC ON THE RADIO
The Recording Academy faced backlash last year when the number of female-led winners totaled only 17 of the 86 awards handed out. This year, the tide has shifted as female artists were honored in 38 different categories.