Simon Cowell risks burning chest hair on 'America's Got Talent'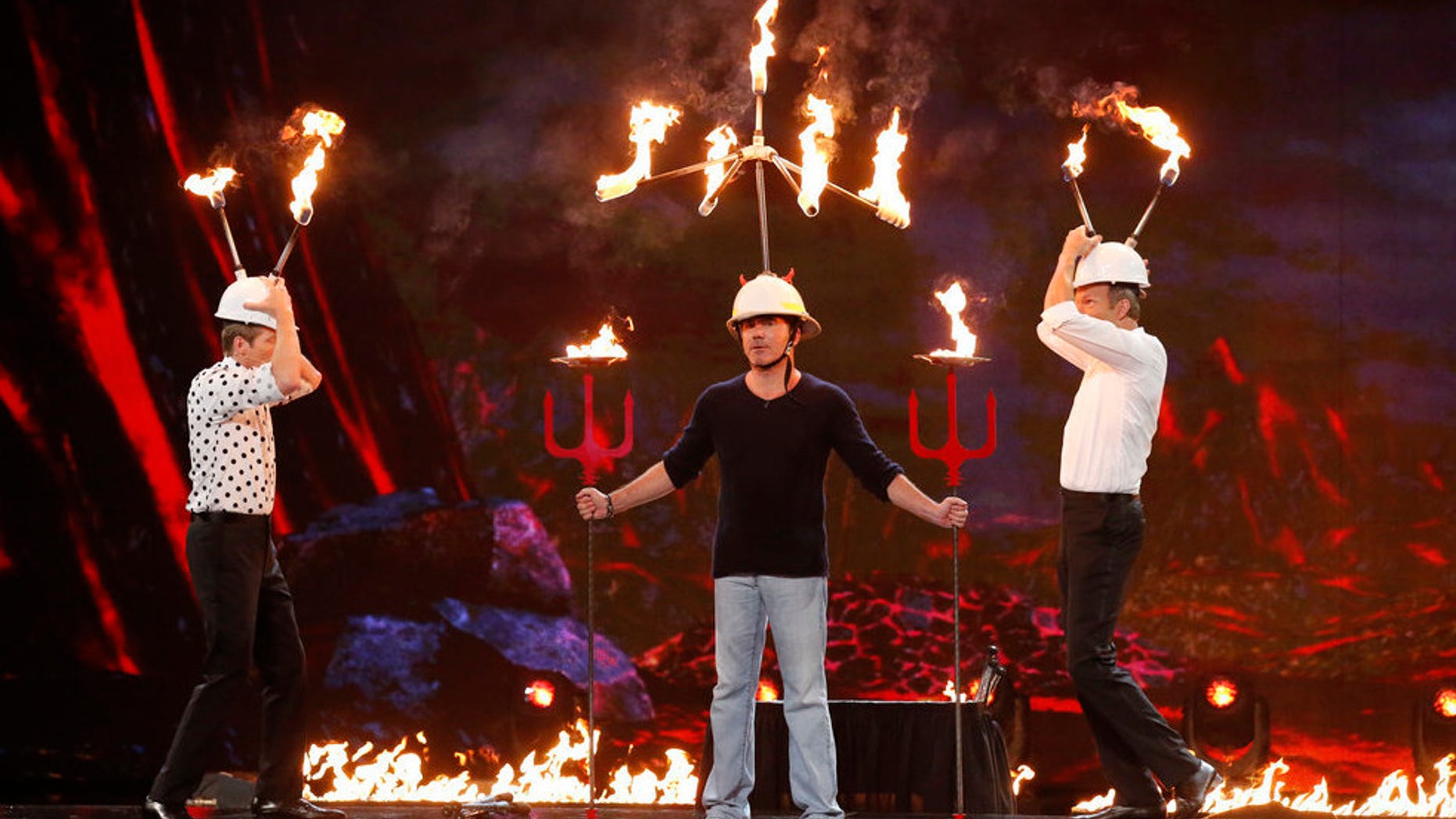 Simon Cowell put his life in the hands of two comedian jugglers as twelve more hopefuls looked to advance to the finals of "America's Got Talent."
The show's most outspoken judge said he wanted to see "more risk of death" from The Passing Zone — and that is exactly what he got when the duo returned as a "wild card" act Tuesday evening.
Cowell appeared genuinely terrified as contestants John Wee and Owen Morse explained that they would be juggling flaming batons both in front of and behind his head.
But the performance took an even more dramatic turn when Cowell was asked to hold two flaming pitchforks as helmet with a propeller of fire was placed on top of his head.
"I haven't laughed like this in such a long time," judge Heidi Klum exclaimed once Cowell returned to his seat.
"What I am really amazed by is that you didn't burn any of his chest hairs!"
Judge Howie Mandel called the performance, "the most fun I have had all season."
The Passing Zone first appeared on "AGT" back in 2006, reaching the Top 10.
They returned a decade later, but were eliminated during the quarter finals before Mandel, Klum and Mel B. opted to bring them back yet again as a "wild card" act.
Five acts from Tuesday's live performances will advance to next week's grand finale.
Among those likely to make it through:
JAYNA BROWN (singer)
Just 14, she set the bar for the night with a stunning performance of Katy Perry's "Rise."  Cowell called it her "best performance yet — by a mile."
KADEN BART ROCKETT (kid magician)
Audiences tend to cut kids some extra slack, but the 10 year-old from Florida certainly didn't need any.  He and his younger sister, Brooklyn, made an entire 5th grade class appear out of a tiny fold-up school house.
LINKIN' BRIDGE (vocal group)
The four friends from Louisville, Kentucky have all overcome some hard times — and that served as motivation for a rousing cover of the Lukas Graham hit, "7 Years."
"From the first note, you were in it to win it," Mel B. praised.  "You put Boyz II Men to shame!"
CLARVOYANTS (mentalists)
The not-quite husband and wife team amazed everyone again but somehow guessing the location of Klum's first kiss, the identity of Mel's grandmother and a special question that Mandel had been wanting to ask Cowell.
"This is amazing and scary and weird." Mandel admitted.  "This is my favorite moment of the night."
STEVEN BRUNDAGE (magician)
He used 200 Rubiks Cubes to somehow form an image of Brad Pitt's face.  That alone should get him a spot in the Top 10.  "You have made the boring fascinating," Cowell said.  "I honestly think you are the most improved contestant we have seen on this show so far."
The five advancing acts will be revealed Wednesday night at 8:00 p.m. on NBC.