Sideline reporter Pam Oliver hit in face with pass before Giants-Colts game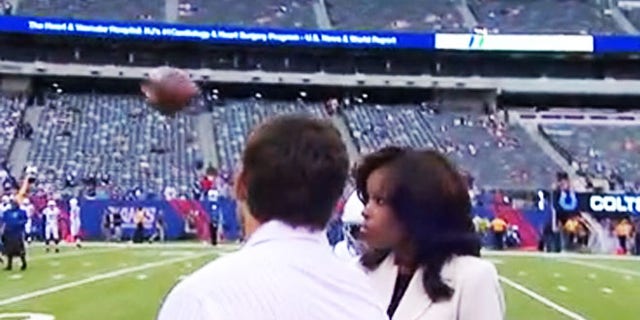 That's gonna leave a mark.
Fox Sports' sideline reporter learned the hard way that even in pre-season, you have to keep your eye on the ball.
Oliver was preparing for a sideline report before Sunday's new York Giants-Indianapolis Colts game when a pass from Colts backup quarterback Chandler Harnish sailed wide and caught her flush in the side of the face.
A camera caught the whole incident, following the pass all the way from Harnish's hand to Oliver's head.
Harnish apologized later and gave Oliver a big hug.
<a href="http://msn.foxsports.com/video?videoid=2136b9d8-e77c-41f3-86d5-d522639213e4&#38;src=v5:embed:syndication:&#38;from=shareembed-syndication" target="_blank" target="_new" title="Pam Oliver shows toughness after getting hit by football">Video: Pam Oliver shows toughness after getting hit by football</a>