Showtime fights claims from Sarah Palin, other critics who say Sacha Baron Cohen posed as disabled veteran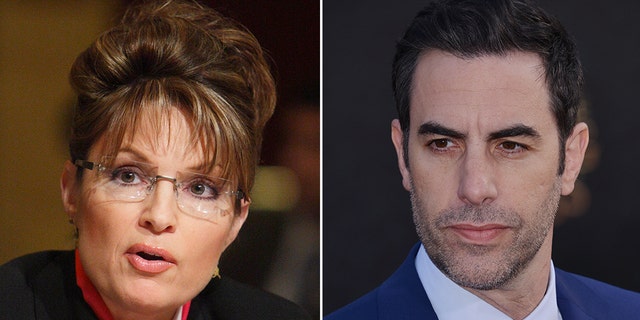 Showtime is fighting "stolen valor" accusations from critics who claimed Sacha Baron Cohen posed as a veteran for the actor's controversial new series, "Who Is America?"
On Monday, the network released a statement explaining "there has been widespread misinformation over the past week" about Cohen's character Billy Wayne Ruddick Jr., Ph.D.
"Baron Cohen did not present himself as a disabled veteran, and viewers nationwide who watched the premiere on Sunday can now attest to that," the statement read.
"In Sunday's episode, during an interview with Senator Bernie Sanders, Baron Cohen in character as Dr. Ruddick was asked by the Senator if he is disabled, and he stated that he is not and uses a mobility scooter to conserve his energy."
The statement went on to say that Cohen "never presented himself as a veteran of the U.S. military to former Alaska Governor Sarah Palin during the booking process or during the filming of her interview."
"And contrary to her claims he did not appear in a wheelchair," the network added, before concluding that in both interviews Cohen, 46, "did not wear military apparel of any kind."
According to Vanity Fair, Billy Wayne is the same character used for Palin's segment, which has not aired yet.
Last Tuesday, Palin, 54, slammed Cohen, claiming she had been "duped" into doing a sit-down interview and was among others in the public eye who had "fallen victim" to his "evil, exploitive, sick 'humor.'"
"Yup - we were duped," Palin wrote on her Facebook page at the time. "Ya' got me, Sacha. Feel better now?"
Cohen, CBS and Showtime drew the ire of the former vice presidential candidate a day after Showtime issued a press release announcing the new series.
In her Facebook post, Palin wrote that she had been approached to participate in a "'legit opportunity' to honor American Vets."
"For my interview, my daughter and I were asked to travel across the country where Cohen (I presume) had heavily disguised himself as a disabled US Veteran, fake wheelchair and all," Palin wrote.
She said she stayed for the interview "out of respect for what I was led to believe would be a thoughtful discussion with someone who had served in uniform." She ultimately left, however, after claiming to have experienced "a long 'interview' full of Hollywoodism's disrespect and sarcasm."
Dubbing Cohen "shallow Sacha boy," she dared him to "go ahead" and "air the footage," before issuing a "challenge" that he and the networks donate the series' earnings to a charity for veterans.
On Monday, a street artist took over a billboard in Los Angeles claiming the comedian indeed engaged in "stolen valor," as the Hollywood Reporter noted.
Along with Palin, veteran broadcaster Ted Koppel, former U.S. Senate candidate Roy Moore and former sheriff Joe Arpaio of Arizona also reportedly agreed to interviews with a disguised Cohen.
Fox News' Elizabeth Zwirz contributed to this report.