Meghan Markle's friend Serena Williams may have accidentally revealed the royal baby's gender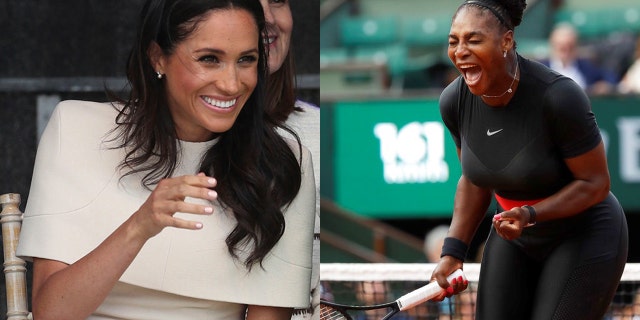 Serena Williams may have accidentally revealed the gender of Meghan Markle's baby during a recent candid interview about motherhood.
The tennis pro has been good friends with Markle since 2014 and was even in attendance at the Duchess of Sussex's royal wedding and baby shower. After the palace revealed in October that Markle is expecting her first child with Prince Harry, Williams says the duo have talked regularly.
MEGHAN MARKLE DIDN'T SPEND TAXPAYER FUNDS FOR BABY SHOWER, BUT SHOULD HAVE KEPT IT MORE PRIVATE, EXPERTS SAY
"You know, we, I think have known each other for a long time. But we really are relying on each other a lot lately," she told E! News.
Williams gave birth to daughter Alexis Olympia Ohanian Jr. in 2017 and discussed the early stages of motherhood with the outlet. It's then that royal baby aficionados believe the tennis champion accidentally leaked the royal baby's gender.
"My friend is pregnant," Williams says in the video below. "And she was like, 'My kid's gonna do this,' and I just looked at her and was like, 'No, she's not. No, you're not.'"
While Williams did not mention Markle directly as the pregnant friend, some are wondering if her curious use of the pronoun "she" means that she's aware that the royal baby will be a girl. If Williams did inadvertently spill the secret during the interview, she's either unaware in the moment or has a remarkable poker face as she didn't seem to waiver at all.
MEGHAN MARKLE, PRINCE HARRY SHATTER INSTAGRAM RECORD HOURS AFTER JOINING APP
Representatives for Williams did not immediately respond to Fox News' request for comment. As a result, royal baby fans will have to wait until Markle gives birth before any official gender announcement is made. Fortunately, they won't have to wait long as the royal Duchess of Sussex's due date is this spring.
CLICK HERE TO GET THE FOX NEWS APP
Regardless of the baby's gender, the royal couple will have no shortage of supplies for their child. According to a new report, the royal couple has received an inordinate amount of gifts, even by royal baby standards.