Scott Baio says he took 5 polygraph tests to dispute Nicole Eggert's sexual assault claims
Scott Baio has claimed that he never molested his former "Charles in Charge" co-star Nicole Eggert. Now, he's revealing that he took a total of five polygraph tests to show he's telling the truth about the accusations against him.
On Thursday, the former sitcom star made a formal statement to the press.
"I have taken five separate polygraph tests given by two highly renowned examiners," Baio said during the press conference in Woodland Hills, Calif.
Baio said he passed each test with the results reading "no deception."
The actor said he was asked the same set of questions for the lie detector tests. The questions included allegations made against Baio by both Eggert and their other former co-star Alexander Polinsky.
Eggert originally filed a police report in February claiming she was sexually abused by Baio from the time she was 14 to the age of 17. Baio said he had consensual sex with her once, but only after she had turned 18, the legal age of consent.
Their "Charles in Charge" co-star Alexander Polinsky publicly supported Eggert's claims. He said the set of the series was a "toxic environment" and claimed he suffered physical assault and mental abuse from Baio.
Baio said he was asked during the polygraph tests: "Did you have any kind of sexual contact with Nicole Eggert before she turned 18 years old?; Did you put your finger in Nicole Eggert's vagina before she was 18 years old?; Have you ever threatened Nicole Eggert that she needed to keep your alleged sexual contact with her a secret?; Have you ever exposed for genitals to Alexander Polinsky?"
Baio answered "No" to each of the questions.
The 57-year-old star also revealed that he had recently filed a police report claiming Eggert was harassing him and his family. During his press conference, Baio's wife, Renee Sloan, stood by his side.
"I went to the police because I want this to end. It's over," Baio said. "There's no coming back from what [Eggert] did. No. You say anything you want about me. You can't come after my wife and my kid. You can't do that."
In May it was announced that Baio would not be charged with a crime for the claims made by Eggert, according to TMZ.
The Los Angeles County Deputy D.A. reportedly decided not to move forward with charges due to the statute of limitations.
Baio told Fox News he is "grateful to both LAPD and the District Attorney's office for their thoughtful investigation."
"Nicole Eggert will be held accountable for her untrue and defamatory claims attacking Scott Baio and his family," a rep for the star told us.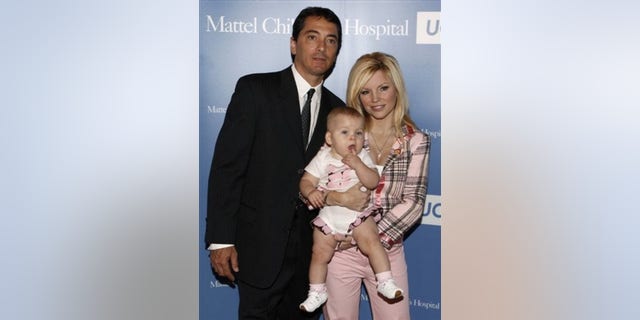 Fox News' Sasha Savitsky contributed to this report.