Schwarzenegger Fathered Child With Household Staff Member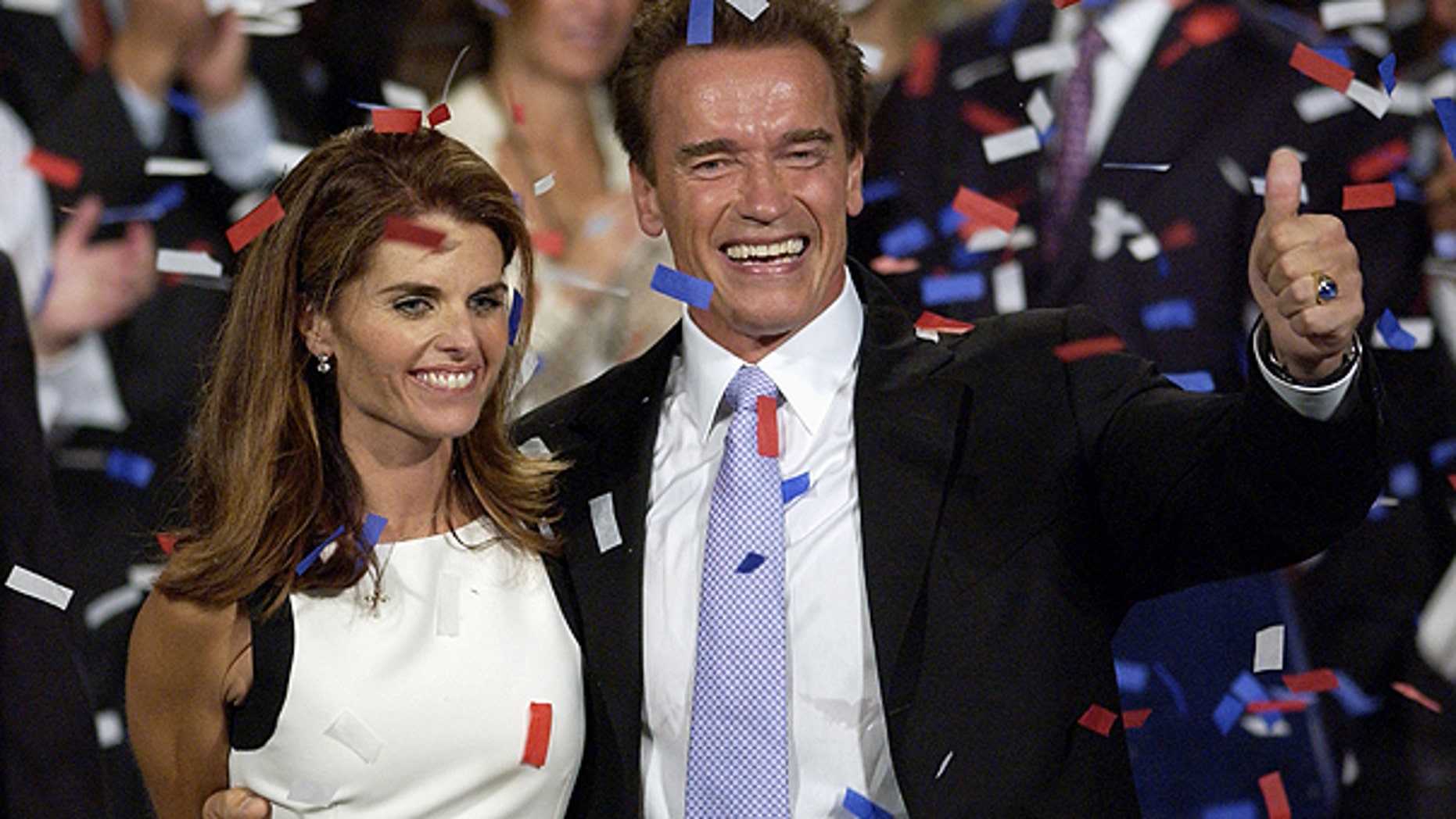 Former California Gov. Arnold Schwarzenegger admitted Tuesday that he fathered a child with a member of his household staff 10 years ago.
He called his actions inexcusable and apologized to his wife, Maria Shriver, his children and his family.
"After leaving the governor's office I told my wife about this event, which occurred over a decade ago," Schwarzenegger told the Los Angeles Times in a statement early Tuesday. "I understand and deserve the feelings of anger and disappointment among my friends and family. There are no excuses and I take full responsibility for the hurt I have caused. I have apologized to Maria, my children and my family. I am truly sorry."
"I ask that the media respect my wife and children through this extremely difficult time," the statement concluded. "While I deserve your attention and criticism, my family does not."
In a statement to FoxNews.com, Shriver said "This is a painful and heartbreaking time. As a mother, my concern is for the children. I ask for compassion, respect and privacy as my children and I try to rebuild our lives and heal. I will have no further comment."
VOTE: Which Celeb Sex Scandal the Most Shocking?
The shocking revelation was apparently the impetus for Shriver to leave the couple's home before they announced their separation last week after 25 years of marriage.
Schwarzenegger and Shriver made a public announcement May 9 that they were splitting up, but according to the L.A Times, Shriver moved out of the family's Brentwood mansion earlier this year after Schwarzenegger announced the affair with his staffer.
The unnamed staffer reportedly worked for the family for 20 years and retired in January. The L.A. Times approached the woman, who initially denied that Schwarzenegger was the father, saying instead it was her husband at the time.
After Schwarzenegger's confession, she declined to offer further comment, saying she voluntarily left her position with the family "on good terms."
"I wanted to achieve my 20 years, then I asked to retire," she told the Times adding that she received a severance payment from the former couple.
Schwarzenegger reportedly accepted financial responsibility for the child from the start and continues to provide support. It is unclear whether or not the child knew that Schwarzenegger was the father.
From the start, the Schwarzenegger-Shriver union seemed an unlikely pairing. She was a Kennedy, well-respected journalist and a Democrat, while he was a Republican bodybuilder turned movie star.
Shriver, 55, stood by her husband during his 2003 gubernatorial campaign after the Los Angeles Times reported accusations that he had a history of groping women. Schwarzenegger later said he "behaved badly sometimes."
In an interview that year with Oprah Winfrey, Shriver balked at allegations that she was taught, as a Kennedy woman, to "look the other way."
"That ticks me off, I am my own woman, I have not been quote 'bred' to look the other way," she told the talk show host.
Schwarzenegger, for his part, publicly credited Shriver's support with helping him to win the election.
In his first public comments since the couple announced their breakup, Schwarzenegger said last week that he and Shriver "both love each other very much."
"We are very fortunate that we have four extraordinary children and we're taking one day at a time," he said at a Los Angeles event marking Israeli independence. Their four children range in age from 13 to 21.
Schwarzenegger has received support from his four other children since the couple announced the news of their split.
Following the announcement, a 52-year-old former child actress, Gigi Goyette, claimed that she was one of many Schwarzenegger mistresses over the course of his 25-year-marriage. In 2005, the L.A. Times reported that two days after he announced his campaign for governor in 2003, a tabloid publisher with close ties to Schwarzenegger paid Goyette $20G for her silence about their relationship.
Since his term as California governor ended in early January, Schwarzenegger, 63, has hopscotched around the world, his wife nowhere in sight. While the "Terminator" star appeared confident about the future since exiting politics, cutting movie deals and fashioning himself as a global spokesman for green energy, Shriver, known for her confidence, seemed unsettled.
In a YouTube video posted on her website in March, she asked her fans "how do you handle transitions in your life?"
"It is so stressful to not know what you're doing next, when people ask you ' what are you doing?' and then they can't believe that you don't know what you're doing and then every idea you have you think, 'well, maybe I shouldn't do that.'
"So I thought to myself, I'll ask you guys … I'd like to hear from other people who are in transition. How did you find your transition? Personal, professional, emotional, spiritual, financial … how'd you get through it?"
Shriver maintained her own identity when her husband entered politics promoting volunteer work and directing conferences, although she gave up her job at NBC.
On Friday, she thanked her Twitter followers for supporting her.
"Thank you for all the kindness, support and compassion. I am humbled by the love," she wrote. "Thank you."
The Associated Press contributed to this report.