Rubén Blades: Robert De Niro Convinced Me To Do Roberto Durán Biopic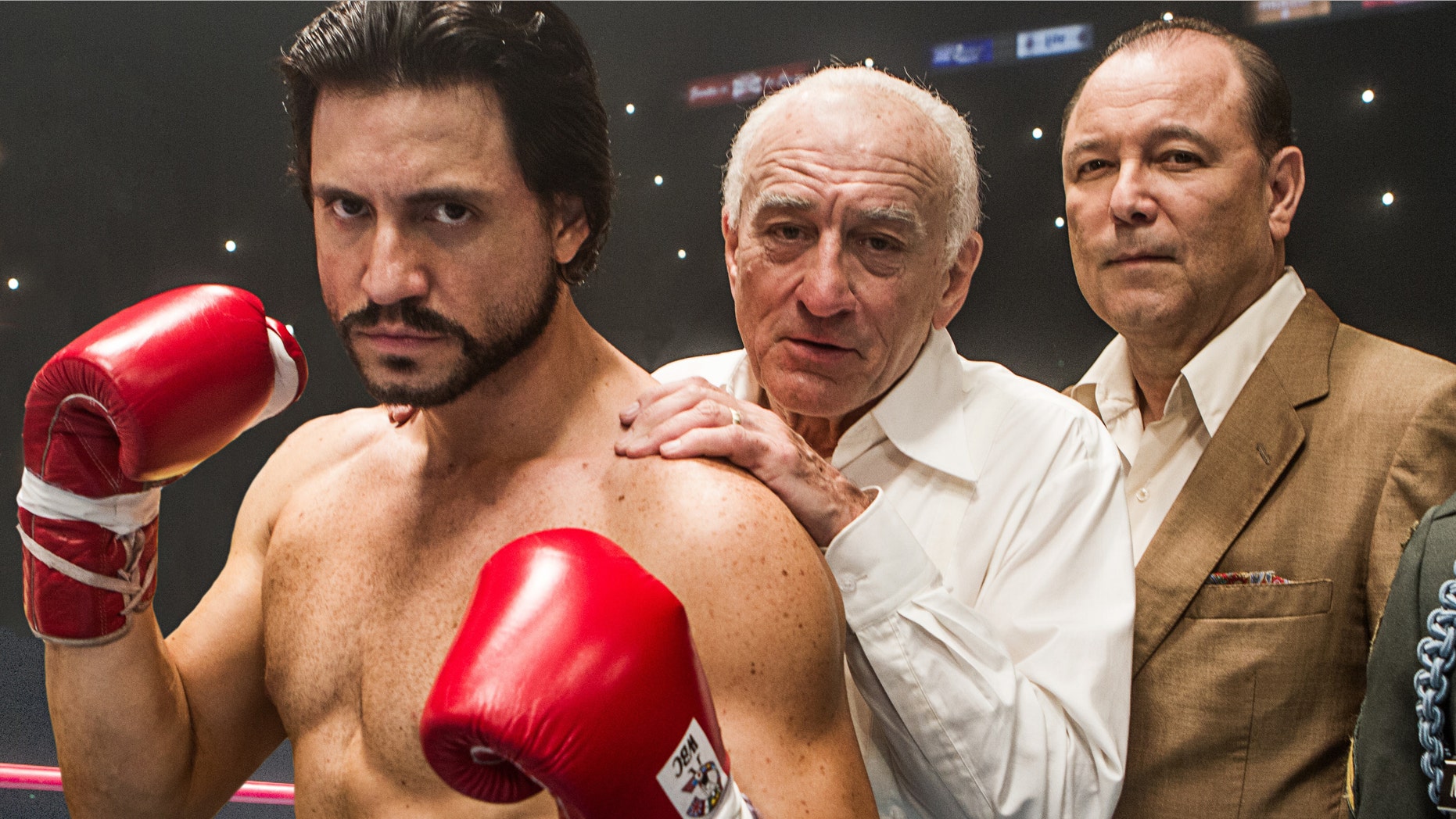 Robert De Niro made Rubén Blades an offer he could not refuse.
The Hollywood icon helped convince the famed salsa star to act alongside him in a biopic about Panamanian boxing legend, Roberto "Manos de Piedra" Durán, called "Hands of Stone."
The director, Jonathan Jakubowicz, tried for years to convince Blades to play the role of Durán's manager, Carlos Eleta, in the film.
Blades worked with Jakubowicz in the Venezuelan director's debut film, "Secuestro Express" ("Kidnapping Express," 2005), but was reluctant to participate in "Hands of Stone" because he feels too close to Durán, whom he met when they were both teenagers in Panama.
"I met Roberto Durán before he won the lightweight championship against Ken Buchanan" in 1972, Blades said. "He loved music and would have been a singer if he could, but he sings as bad as I box."
"I didn't want to do it because I was worried that people in Panama would say, 'How could you have made this film?,''' Blades recalled in a recent interview over lunch at his favorite Manhattan restaurant, a Cuban-Chinese food in the Upper West Side. "Nobody likes films about icons."
But in 2013 Blades was invited to be a juror at the Tribeca Film Festival, which was founded by De Niro, and the two men had a conversation.
"He asked me, 'Why aren't you in the movie?,''' Blades said. In the film, De Niro plays Durán's legendary coach, Ray Arcel.
"De Niro was going crazy with the idea of making the film," Jakubowicz, who was in New York at that time for a cast reading of the script, said.
Blades agreed to meet with the director, who promised him that the Eleta character would have a lot of layers and couldn't be easily classified as either hero or villain.
Jakubowicz also assured him that Durán was familiar with the script.
Blades also was excited to see that the Venezuelan actor Edgar Ramírez, best known for his award-winning portrayal of the terrorist Carlos the Jackal in the 2010 TV miniseries "Carlos," was playing Durán.
The cast also includes Ellen Barkin as Arcel's wife, John Turturro as the mobster and boxing promoter Frankie Carbo and singer Usher as Sugar Ray Leonard.
"I went to meet [Jakubowicz], and I told him, 'When will I have another opportunity to work with the great Robert De Niro?' So I accepted and we made the movie."
"It was a pleasure to work with De Niro," said Blades, 66. "He is truly disciplined and prepared, punctual and understands how to make a scene work."
Jakubowicz said Blades became one of his "major allies, not just in terms of humanizing his own character, but in making sure that every second of the film had the authenticity and legitimacy needed."
The movie is set to open later this year or early in 2015.
Most of the film was shot in Panama, which gave a boost to the budding film industry in that country. The production tried to recreate five cities and four decades and used 15,000 extras, Jakubowicz said.
"This is the first role of Rubén's acting career in which he plays a Panamanian, and the first film he makes in Panama," Jakubowicz said via email. "What we accomplished is historic.... Rubén filled with humanity a very complicated man, and in the end you love him, with his strengths and his weaknesses."
This is the largest film role that Blades has taken on since he took a break in his artistic career to serve as Minister of Tourism for Panama between 2005 and 2009.
Blades lost his agent, but eventually Denzel Washington asked him to play a small but important role in his 2012 film, "Safe House." And then the director Ridley Scott selected him for another small role in "The Counselor," whose cast includes Michael Fassbender, Brad Pitt, Javier Bardem, Penelope Cruz and Cameron Diaz.
He also resumed his musical career. In his most recent album, "Tangos," which was released last month, he reinterprets some of his salsa classics such as "Pablo Pueblo" and "Pedro Navaja" with the help of Argentinean tango musicians.
Blades said that "Hands of Stone" is not a "trifle" about a boxer. Durán won major world titles in four weight classes in a career that spanned five decades, but his record was tainted when he suddenly quit during the 8th round of a defense of his welterweight title against Sugar Ray Leonard.
Blades recalled that whenever he went to Durán's house in Panama, the doors would be open, and they would always be cooking for whomever might show up, even if they were complete strangers.
"He was always helping people, which is one of the reasons he ended up having financial problems later," Blades said. "I'm glad he's being recognized" in the film.
"I think the example of Durán—where he came from and what he had to overcome—is an example to people from every race, to every person in the world," said Blades. "He isn't just a legend in Panama, he's a worldwide legend."
Translated and adapted from an AP story.
Follow us on twitter.com/foxnewslatino
Like us at facebook.com/foxnewslatino