Rosie O'Donnell says she had a 'crush' on 'The View' co-host Elisabeth Hasselbeck
It turns out there's a reason – besides being polar political opposites – that Rosie O'Donnell and Elisabeth Hasselbeck fought like an old married couple during their time together on "The View."
O'Donnell, 57, confessed in "Ladies Who Punch: The Explosive Inside Story of 'The View'" that she had "a little bit of a crush" on her right-leaning table-mate.
The comedian was quick, however, to clarify that her "crush" manifested itself in a mentor role, not in any romantic overtures.
THE FIVE BIGGEST 'VIEW' BOMBSHELLS WE LEARNED FROM JENNY MCCARTHY
"Not that I wanted to kiss her," O'Donnell explained in the book (via Variety). "I wanted to support, raise, elevate her, like she was the freshman star shortstop and I was the captain of the team ... I was going to Scottie Pippen her. If I was Jordan, I was going to give her and the ball and let her shoot. But it was in no way sexualized."
JENNY MCCARTHY SAYS SHE WAS ONCE ASKED TO 'ACT REPUBLICAN' ON 'THE VIEW'
"I loved her," she admitted, adding that she tried to help Hasselbeck, 41, learn the ropes of TV.
"Here's what I said, 'I'm the senior. She's the freshman. I've got a really good player on the freshman team, but I have to teach her how to loosen up,'" O'Donnell recalled.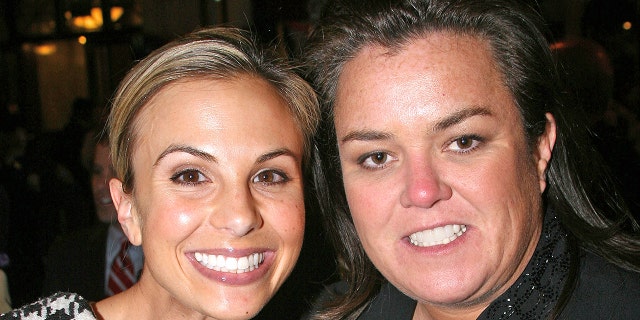 ROSIE O'DONNELL REVEALS HER FATHER SEXUALLY ABUSED HER
"I think there were underlying lesbian undertones on both parts," she added, throwing in some lesbian athletic stereotypes for good measure. "I think this is something that will hurt her if you write it. She was the MVP of a Division 1 softball team for two years that won the finals. There are not many, in my life, girls with such athletic talent on sports teams that are traditionally male that aren't at least a little bit gay."
ROSIE O'DONNELL WRITES STRANGE POEM ABOUT DONALD TRUMP
O'Donnell said her last day on TV with Hasselbeck was heartbreaking, despite their constant onscreen screaming matches over hot-button issues. The "A League of Their Own" star also said she was hurt that Hasselbeck didn't defend her from other conservatives who allegedly took shots at her.
CLICK HERE TO GET THE FOX NEWS APP
"It felt like a lover breaking up," O'Donnell admitted. "The fight that we had, to me as a gay woman, it felt like this: 'You don't love me as much as I love you. I've taken care of you. You have not. How could you do that to me? I didn't do anything to you.'"
Reps for O'Donnell and Hasselbeck did not immediately return Fox News' requests for comment on their working relationship.