Ronald Reagan Biopic Details Life With Nancy, 'Plan to Defeat Soviets'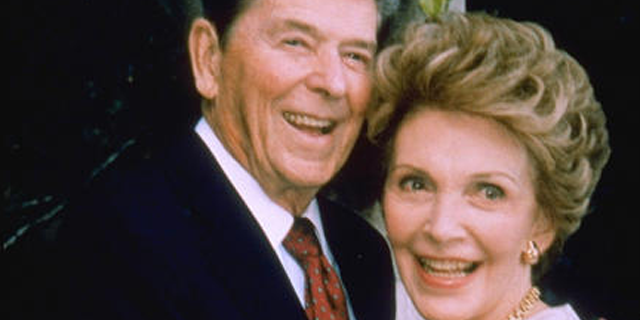 The larger-than-life story of President Ronald Reagan is being turned into a big budget biopic. The $30 million motion picture is expected to hit theaters next year.
Adapted from two best-selling biographies of the late president, "The Crusader" and "God and Ronald Reagan," both by Paul Kengor, the film will take audiences from Reagan's childhood in Dixon, Illinois, through his Hollywood film career and his presidency.
Mark Joseph, who optioned the books four years ago, is producing with Ralph Winter.
"I have had this in my mind for a long time, and I chose those two books for very specific reasons," Joseph told FOX411.com. "It is a good balance. One is a personal biography of the man and his life, and the other is a mystery that is full of intrigue about his plan to defeat the Soviets."
Reagan's life story was the subject of a feature seven years ago, the 2003 miniseries, "The Reagans," starring James Brolin.
That miniseries was originally scheduled to air on CBS but was moved to Showtime after a controversy erupted over claims that the filmmakers instituted a left wing bias into the program The series was seen by only 1.2 million people.
Joseph is hoping that his version doesn't alienate anyone, and believes that even Reagan detractors can find something to take away from his film.
"My hope is that this will be a movie the red states and blue states can both enjoy for different reasons," Joseph said. "Ronald Reagan has come to transcend politics, and I do hope his fans will enjoy the film. But I think we are telling the story in a way that people who may not have liked him in his time will be able to appreciate him for the giant historical footprint he left on our country."
The cast for the biopic has not yet been decided, but Joseph says that he has several actors and actresses in mind to play Ronald Reagan and his wife Nancy. The producer expects to announce the casting decisions in the next few months.
"We've already had ongoing conversations with some of the actors I am interested in. We can't talk about those yet. But we're pretty settled on a Nancy figure," Joseph said.
Because the film will encompass all aspects of the president's life, the Reagans' love story will play a large part in the movie.
"Ronald Reagan meeting Mrs. Reagan is a key moment in the film. She is a very important figure in his life and their love story is a big part of the film," Joseph said.
Nancy Reagan was informed about the film by the filmmaker several years ago when the books were optioned, but she has no part in the filmmaking process and has not endorsed the project.
Mark Winter's producing credits include four "X-Men" movies, two "Fantastic Four" movies and the 2001 remake of "Planet of the Apes." Joseph, formerly a marketing and development executive, worked on "Ray," "Holes," "Because of Winn-Dixie" and "The Passion of the Christ," and just completed producing "Doonby," a thriller starring John Schneider.
Screenwriter Jonas McCord has a number of television and film credits to his name. He served as the executive producer of the 2003 Robert Altman film "The Company" and wrote and directed the 2001 film "The Body."