Ringo Starr receives knighthood for services to music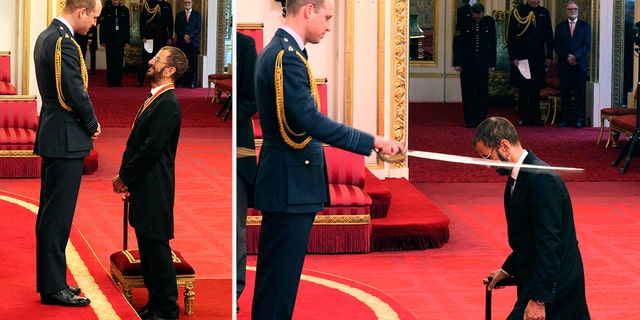 Famed Beatles rocker Ringo Starr was knighted by Prince William on Tuesday for his services to music, the BBC reported.
The 77-year-old drummer received the honor during the event at Buckingham Palace.
"It means a lot actually," Starr told the outlet. "It means recognition for the things we've done. I was really pleased to accept this."
The Royal Family congratulated the musician on social media.
MEGHAN MARKLE AND PRINCE HARRY'S ROYAL WEDDING: EVERYTHING YOU NEED TO KNOW
Starr's knighthood was bestowed more than half a century after The Beatles first went to Buckingham Palace to receive MBE awards.
Starr, whose real name is Richard Starkey, joins former bandmate Paul McCartney in knighthood. McCartney was knighted in March 1997.
He and Starr are the lone surviving members of the famous band.
TIM MCGRAW JOKES HE'S 'HYDRIATING' DAYS AFTER COLLAPSING DURING CONCERT FROM DEHYDRATION
"I had dinner with him last week and we were both actually laughing about where we came from, and we've ended up in the palace and it's now Sir Paul and Sir Richard," Starr told The Associated Press.
The Associated Press contributed to this report.