Richest Young Stars: Then & Now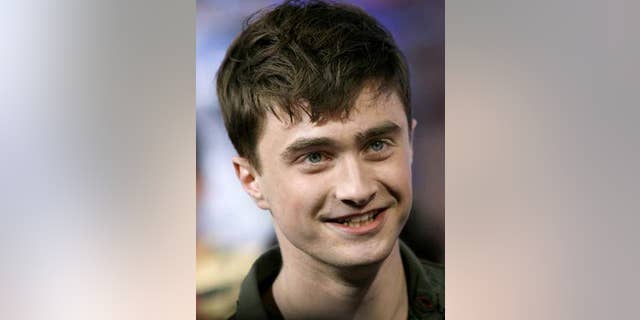 It's official. Daniel Radcliffe, aka Harry Potter, is the world's richest star under the age of 21. Not only is he the wealthiest teenager in the U.K., but on this year's Forbes list of top young earners, he surpassed Miley Cyrus to gain the title of "Hollywood's Most Valuable Young Star." And at age 20, with three more Harry Potter films before the franchise ends — including this week's "Harry Potter and the Half-Blood Prince" — we're guessing he might stay there for a while.
Daniel had appeared in only one theatrical film ("The Tailor of Panama" with Pierce Brosnan) and one TV movie ("David Copperfield") before donning Harry's round glasses and applying the forehead lightning bolt. In between filming the eight movies (the last two are now in production), Radcliffe tried to break out of the Potter world, with roles in 2007's "December Boys" and the bare-all stage production of "Equus."
So who did Daniel beat out for the most successful kid? Read on to see other young moguls under 21 (past and present) and how they got to where they are now.
Photo gallery: See some of the richest young stars, then and now.
In 2008 Miley Cyrus and Daniel Radcliffe shared the top spot on the Forbes list, each earning a cool $25 mil for the year. This year Dan bumped her down to #2. And though Radcliffe might be the reigning king, with two Hannah Montana films, a TV series, her first animated movie, ("Bolt"), and a hit recording career (including three #1 studio albums), Miley is queen of the 'tween world. And if all that weren't enough, Miley is now a best-selling author, with her autobiography, "Miles to Go," reaching #1 on the New York Times list.
The Olsen Twins
Mary-Kate and Ashley Olsen are not only rich kids, they're rich ... period. In 2006 they ranked #11 on Forbes list of "The 20 Richest Women in Entertainment" (that's women of ALL ages), with a net worth of $100 million. And they topped Forbes' young star list in 2007. The individual pair (they prefer that term to "twins") became the youngest producers in history... at the age of six. By ten, they were declared the youngest self-made millionaires in American history. On their 17th birthdays CNN reported that they were worth $150 million each, and at 18 they took control of their billion-dollar company, Dualstar. Today, at 23, the sisters live on separate coasts but continue to set style trends and make millions in their spare time. The only reason they didn't top Forbes' richest young stars list this year? They're too old!
The Sprouse Brothers
There was a time when Dylan and Cole Sprouse were on track to be the next Mary-Kate and Ashley Olsen. The twin stars of Disney's "The Suite Life of Zack & Cody" had inked a deal with the Olsens' company, Dualstar, to create "Sprouse Bros.," a brand that includes clothing, sports gear, video games, and even deodorant with the adorable blond brothers splashed all over them. They also signed a book deal with Simon & Schuster for a spy series featuring two twin crime solvers. To date, six books have been released in the series, but rumors are that the deal with both the publishing company and Dualstar are done. Yet the brothers still have "The Suite Life on Deck" (a sequel series to the original, where the boys now live on a cruise ship instead of at a hotel), and tweens' hearts are still throbbing. At 16, they have a few years to make it to the top of the Forbes list. Maybe they need to start a band to push them over the top of teen idoldom?
Macaulay Culkin was one of the richest child stars EVER. After conquering the big screen at age ten in "Home Alone," Mac became the first child actor to be paid $1 million, for the follow-up film, "My Girl." But that was just the beginning. For the "Home Alone" sequel he earned a $4.5 million paycheck and in 1994, at age 14, he was a paid a staggering $8 million for both "Richie Rich" and "Getting Even with Dad." That's $18 million in one year, enough to put him on today's Forbes list, never mind a list from 15 years ago. Sadly, Mac's fame was too much for his parents to handle, and they divorced, beginning a bitter custody battle over their son... and his trust fund. At 18, Mac took his money and married Rachel Miner, briefly, to solidify his independence. After an eight-year lull, he slowly made his way back into acting, with notable roles in 2004's "Saved" and 2007's "Sex and Breakfast."
Vanessa Hudgens and Zac Efron are Hollywood's teen power couple: the Brangelina of the under-21 set. In 2008 both appeared on the Forbes list: he clocked in at #5 with $6 million, and she pulled up the rear at #10 with $3.2 million. Both actors rose quickly to fame after being cast in the Disney Channel made-for-TV movie "High School Musical." After the "HSM" phenomenon took hold, spawning two sequels and various chart-topping soundtrack albums, Vanessa also started a singing career. She now has three movies in production, while Zac pursued other films outside the Disney franchise, including 2007's "Hairspray" and 2009's "17 Again." Neither actor made the Forbes list this year, so we'll see if their star power is only as good as the last "HSM" movie, or if they can have a rich life beyond high school.
Dakota ranked #3 on this year's Forbes list, thanks in part to her role in "The Secret Life of Bees" and her voice work in "Coraline." At age 15, she has already appeared in more than 20 movies with some of Hollywood's biggest stars, including "I Am Sam" with Sean Penn (for which she became the youngest actor to be nominated for a Screen Actors Guild award), "War of the Worlds" with Tom Cruise, and "Charlotte's Web" with Julia Roberts. Next up for Dakota is a Runaways biopic, where she plays lead singer Cherie Currie, and the second film in the "Twilight" series, "New Moon." With the success of the first, we can't help but wonder if this blockbuster franchise will put Dakota at the top of next year's list.
Gary Coleman
In the mid-'80s, Gary Coleman was as on top of the world as a little guy could get. He was one of the richest kids in Hollywood, coming off a successful eight-season run on "Diff'rent Strokes," for which he got paid a reported $70,000 per episode (not a bad paycheck for a 17 year old). And aside from people occasionally confusing him for Emmanuel Lewis, life was good. But by 1989, Gary learned his parents and former manager had been skimming a little too much off the top of his $8.9 million trust fund for themselves, and he sued them. Gary won and received a $1.28 million settlement. Sadly, he didn't hold on to that cash for long and filed for bankruptcy in 1999. Let this be a lesson to all the rich, young stars out there: fame and fortune is fleeting, so put some money away for a rainy day.
Rihanna
OK, we're cheating a bit here. Rihanna SHOULD be rich ... and we THINK she's rich. At 21 she has three Top 10 albums and four #1 songs, including her most recent, "Disturbia," and she's sold more than 12 million albums worldwide. She's also been featured on chart-topping singles with other artists, and it seems that everyone wants to work with her. She's had endorsement deals with Nike, CoverGirl, Clinique, Gucci, and Jay-Z's Iconic Fragrance line. So, by all accounts, she should be rolling in dough. But stories swirled last year that she had only $20,000 in the bank (because she self-financed all her videos) and fired her accountant for mismanaging her funds. Rumors or no rumors, she should be rich. Now she just has to keep those fines for illegally tattooing her friends under control.
Hilary Duff
In 2008, Hilary Duff was #8 on the Forbes list, raking in five million dollars from both her acting and singing careers. Hilary got her start playing the title character in the Disney show "Lizzie McGuire," which spun off into a movie in 2003 and led to other film gigs, including "Cheaper by the Dozen," "A Cinderella Story," and "Material Girls." And like all good Disney stars, she also launched a pop singing career, selling more than 13 million albums worldwide and earning three #1 singles on the U.S. dance charts. This was her last year for eligibility on the Forbes top young earners' list (she'll turn 22 in September), but we're still rooting for her. She somehow seems the most grounded of her Disney tweens-turned-celebrities generation. Watch for her reoccurring role on "Gossip Girl" this fall, as she plays an actress who goes to school to have a "real" college experience.
More at GetBack.com: