Rich Wilkerson: From pastor to reality star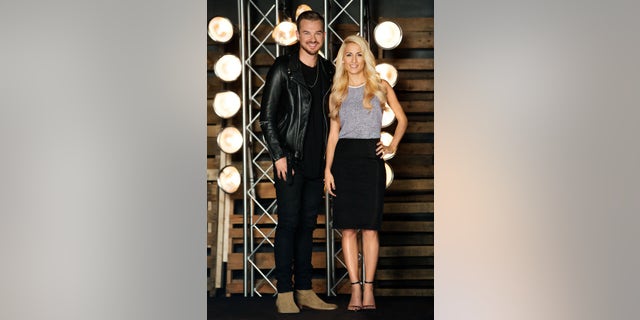 Rich Wilkerson Jr. first made headlines last May when he officiated Kim Kardashian and Kanye West's wedding. Now, the fourth generation pastor has his own reality show called "Rich in Faith" which airs Wednesdays at 10 p.m. on Oxygen. The 31-year-old hopes to "bring faith to our generation in a whole new way." Wilkerson spoke to FOX411 about the show, his faith and, of course, Kim and Kanye.
FOX411: You married Kim and Kanye. How did that come about?
Rich Wilkerson: They've been friends of ours for a while. Kanye came to our service a few years ago and we just hit it off and just continued to be friends. We were there for their engagement just as friends and when it came time for their wedding, they asked us to be there for the wedding day and oversee the ceremony. It was just a big honor. It was a lot of fun as well. I know them as close friends so I get to see a different side of them.
FOX411: Why did you decide to do a reality show?
Wilkerson: We were excited to do reality TV, a language of our culture and we thought it was a great opportunity to encourage people and show people in 2015 church life and people of faith. We've got regular problems and how our faith gets us through those things.
FOX411: What do you mean by regular problems?
Wilkerson: I just think that a misconception could be that your pastor's marriage is perfect, that people in your life don't get sick, that family members in your life don't have financial problems, the list can go on and on and on. So I think this show is going to be real and authentic in that area. That it's not just perfect all the time. That's there's storms, there's battles, there's obstacles, there's adversity, there's pain but our faith carries us through.
FOX411: What does the show tackle?
Wilkerson: It really tackles this past year. My wife and I were on staff for eight years with my parents at a church called Trinity Church in North Miami and in September of 2014 after a lot of talks with my Dad and the church, we decided that we would step out and plant a brand new church. So for eight years I led a Bible study group called the Rendez Vous and we call it the Vous for short. This past year we just began the journey, no staff members, nobody getting paid, just volunteers. The first time we met was in a bar and held meetings and trying to get it going and then in September 2015 we opened the doors first time. Fifteen weeks in, it's been a great journey. Really the show captures that whole first year, the early days of that. The challenges of that. I think it's a show the whole family can watch but also for anybody that has a dream. I think it's really encouraging to watch the show unfold.
It also shows what is church about. Is it about a big crowd on Sunday? Or is church about individual people that you're doing life with.?You see stories of people that are going through real pain like cancer to drug addiction to marriage problems. You see how the church is out in the community trying to make a difference.
And then, of course, it shows my wife and I. We've been married for nine years, been together since we were 17. It centers around our marriage and our home and I think it's funny and entertaining. Our marriage is not perfect, but I think we do have a good marriage, and we hope that whatever challenges we've had people can find hope through that.
FOX411: Did you feel pressure to become a pastor?
Wilkerson: I'm sure there were moments where I probably had some of those feelings but that wasn't the overriding feeling of my childhood. I think the overriding feeling of my childhood was I felt centered to God and always felt centered to people and wanting to help people and wanting to encourage people. But really at 17 years of age is where I had a moment where I felt like I was called to God and kind of had this moment where God spoke to me. From 17 on I've always had a desire to be a preacher.
FOX411: When people meet you are they surprised that you're a pastor?
Wilkerson: Yeah I think sometimes they are and I think that's where the show comes from and kind of challenges them a bit. People sometimes have a misconception that a preacher or a pastor is supposed to look a certain way or be a certain age or wear certain clothes. I think there's a whole new generation of people that have no idea what a pastor should look like and be like.
FOX411: Talk about your faith.
Wilkerson: My faith is the center of my life. Every decision that I make. For me my relationship with God through Jesus is everything. It motivates me, it encourages me, it comforts me, it challenges me. I think it's always giving me hope and it's always carried me when I feel that I can't keep going forward. I'm so, so grateful for it.