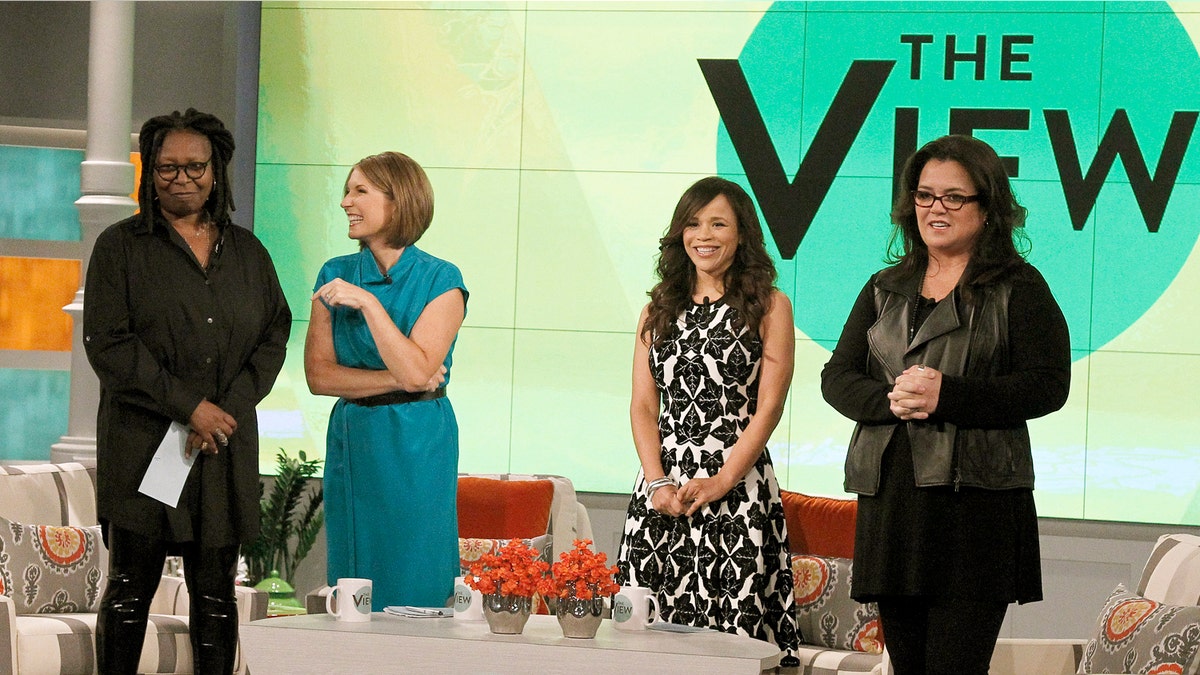 NEW YORK (AP) – Daytime's "The View" revealed its latest makeover Monday, opening the post-Barbara Walters era with a new set, new boss, mostly new team and a promise to be provocative again.
Whoopi Goldberg is the only holdover on the daytime chatfest, which has faded in recent years as competitors sought to improve on its ensemble format. A slimmed-down Rosie O'Donnell returned for her second run, joined by actress Rosie Perez and former Republican political operative Nicolle Wallace.
"'The View' is the show that everyone has copied but we're the original," Goldberg said.
Backstage after the show, Goldberg said the hosts had been told the past few years to avoid political topics. That clearly wasn't the case Monday, as the four cast members dove right into a discussion about domestic abuse and the National Football League, along with changing attitudes toward corporal punishment. O'Donnell said that while she was able to look past abuse charges against Chris Brown and enjoy his work, she couldn't do that with Woody Allen and no longer sees his movies.
Goldberg couldn't stifle giggles when talking to Wallace about Sarah Palin, with whom she clashed while working for the GOP's 2008 national ticket.
"When did you want to just pop her?" Perez asked.
Otherwise, Wallace struggled to get a few words in during her first show.
"I'm a Republican, we should get that out of the way," she said in introducing herself.
"And I really like her!" O'Donnell shouted from two chairs away. "I swear to God."
O'Donnell, who has shed more than 50 pounds after a heart attack last year, sat barefoot and cross-legged in her chair, saying she's recovering from a nerve ailment. She said later the show seems to be moving toward discussions of what women "really care about, and it's not all about pop culture."
She said she's expecting a smoother time than her previous eight months on "The View," which ended in 2007. In part that's because longtime producer Bill Geddie is out, replaced by Rachel Maddow's former producer, Bill Wolff.
"We had a different idea of what the show could or should be," she said about her first tenure. "But when someone invites you into their house for dinner, you don't rearrange the furniture. This is a new house with a new owner, and I was invited to consult on what the furniture should be."
O'Donnell was the ringmaster during commercial breaks, taking a microphone and interacting with the audience. It created some moments funnier than what appeared on the air, like when one onlooker asked whether someone else might be added to the four-person cast.
"This isn't enough for you?" she joked. "Get the (expletive) out."
Onscreen, she played a brief game with an audience member and Perez, asking them to guess which Rosie had said or done certain things. Also Monday, Kristin Chenoweth came on for a song in tribute to the late Joan Rivers.
Walters, who invented the format nearly two decades ago, watched the proceedings from offstage. She filmed an awkward show-opening segment seated in a "throne" where the four hosts briefly approached and bowed before her. Wolff said he talked to Walters a couple of times a week to get advice.
The new executive producer, brought on midway through the show's makeover, said he was largely responsible for hiring Perez and Wallace.
"This is our chance to take our leap forward creatively," Wolff said. He said he hoped the audience would recognize that the four cast members are all smart, accomplished, able to have vigorous conversations and disagree with one another while still liking each other at the end.
It's a work in progress: Except for one practice run-through, Monday was the first time all four women had been together.
Follow us on twitter.com/foxnewslatino
Like us at facebook.com/foxnewslatino