Reporters pause political journalism to pick out clothing for Kamala Harris on campaign trail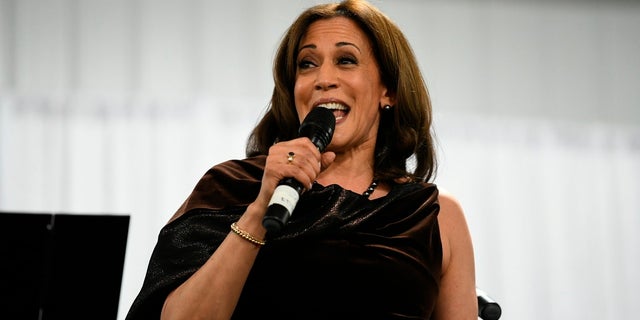 A group of political reporters hit the campaign trail with California Sen. Kamala Harris on Saturday but took a break from the political journalism, instead encouraging the Democratic 2020 presidential hopeful to try on clothes and giggle with her at a South Carolina boutique.
CNN national political reporter Maeve Reston, NBC News political reporter Ali Vitali and CBS News political reporter Caitlin Huey-Burns documented the laugh-filled shopping spree on Twitter. (Notably, all three reporters are billed as straight-news journalists, as opposed to opinion hosts.)
"We kind of forced @kamalaharristo try on this awesome oversized rainbow sequin jacket," Reston wrote. "She snapped it up."
CNN USES ILHAN OMAR'S ANTI-SEMITISM CONTROVERSY TO ATTACK TRUMP, GOP
Huey-Burns tweeted video of Harris trying on a colorful jacket, which she noted was spotted by the CNN reporter. "Oh yeah that's it," a voice is heard saying as Harris checks out her threads amid chuckles.
Reston tweeted a different video, quoting Harris that it is awkward to shop in front of the press.
"This is awkward to shop in front of 5,000 cameras," she quoted Harris say saying in the tweet.
Reporters have historically interacted with candidates on the campaign trail, but picking out clothing pushes boundaries in the eyes of many critics. Reston's tweet was met with a plethora of negative feedback.
KAMALA HARRIS, PUSHING LEGAL MARIJUANA, SAYS SHE SMOKED POT IN COLLEGE: 'AND I INHALED'
"Here's to reporting the news and staying neutral! Great job@CNN," one user wrote, while another added, "Are you getting paid by @KamalaHarriscampaign?"
Another follower wrote: "Probably not good for a journalist to be doing this. Definitely a bad idea to tweet it out."
CNN, CBS and NBC News did not immediately respond to requests for comment.