Reba McEntire is 'completely at ease' with new boyfriend after divorce, says pal
NEWYou can now listen to Fox News articles!
Reba McEntire has found romance again with the help of her new boyfriend, Anthony "Skeeter" Lasuzzo, and her friend couldn't be happier.
"I see her completely at ease with him," Melissa Peterman, former "Reba" co-star, told Closer Weekly Wednesday. "He adores her wholeheartedly, which is what we all want, right?"
The magazine noted the 63-year-old was still recovering from 2015 divorce from her husband of 26 years, 61-year-old Narvel Blackstock, when she met Lasuzzo while on vacation in Wyoming in 2017.
Peterman insisted Lasuzzo, a retired oil executive, doesn't seem to be fazed by the country singer's stardom.
"I don't think it even causes a stir," she said. "He is a confident guy. And when you're hanging with the crazy crew that Reba has, you gotta be a good sport and be able to roll, and he totally does!"
McEntire and Lasuzzo stirred headlines when they hit the red carpet at the Grammys earlier this year.
Back in 2016, Us Weekly reported McEntire initially didn't want to divorce her now-ex-husband.
"The divorce was not my idea," she explained to CMT's Cody Alan. "I didn't want it in any shape, form or fashion. So it was really hard to make the adjustment, when someone's not happy. I just want everybody to be happy in their lives because our lives are too short to be miserable."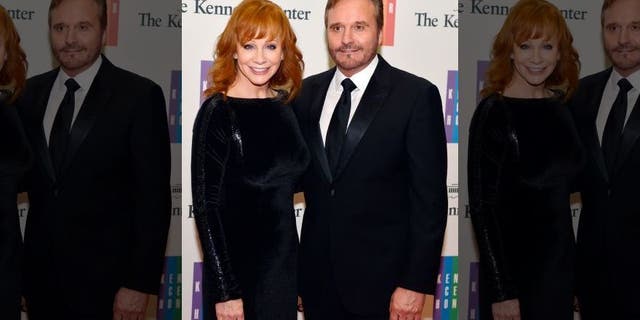 McEntire and Blackstock announced the end of their marriage in 2015. Her previous marriage lasted from 1976 until 1987. The music icon credited her faith to cope with the more recent split.
"The thing that got me through this change in life, is number one, God," she explained. "I prayed every day to help me have the strength to move one foot in front of the other, and continue on with what I'm supposed to be doing… and then with my team… and my friends, my family, my girlfriends."
McEntire added, "You know, you just got to have a great team of people around you that you love, and they love you, and I'm very blessed to have those people. I thank God for it all."
Shortly before the divorce in 2015, McEntire told Fox News she celebrated her birthday with Blackstock in Arizona where she served as the emcee for Muhammad Ali's celebrity fight night benefit. She had also released a new album, titled "Love Somebody."
"These are songs that touched my heart," she said. "When I heard them, that's when I knew I wanted to record them. I think the main thing that's different about this album is the overall theme. It's about love – falling in, falling out, being in. I've never had a teamed album, so I guess this is the closest to that."
And when McEntire was asked about what advice she would give to herself if she could go back and change anything about her twenties, the country crooner had plenty to say.
"My twenties?! Do you know how long ago that was?!" she said. "… I know I made lots of mistakes… but I guess everything happens for a reason, and everything you do is a learning process. I could probably write you a list if I had time – well, if you had time – for me to sit here and write it all down. I mean, I was 21, got married probably way too early, but I learned a lot."