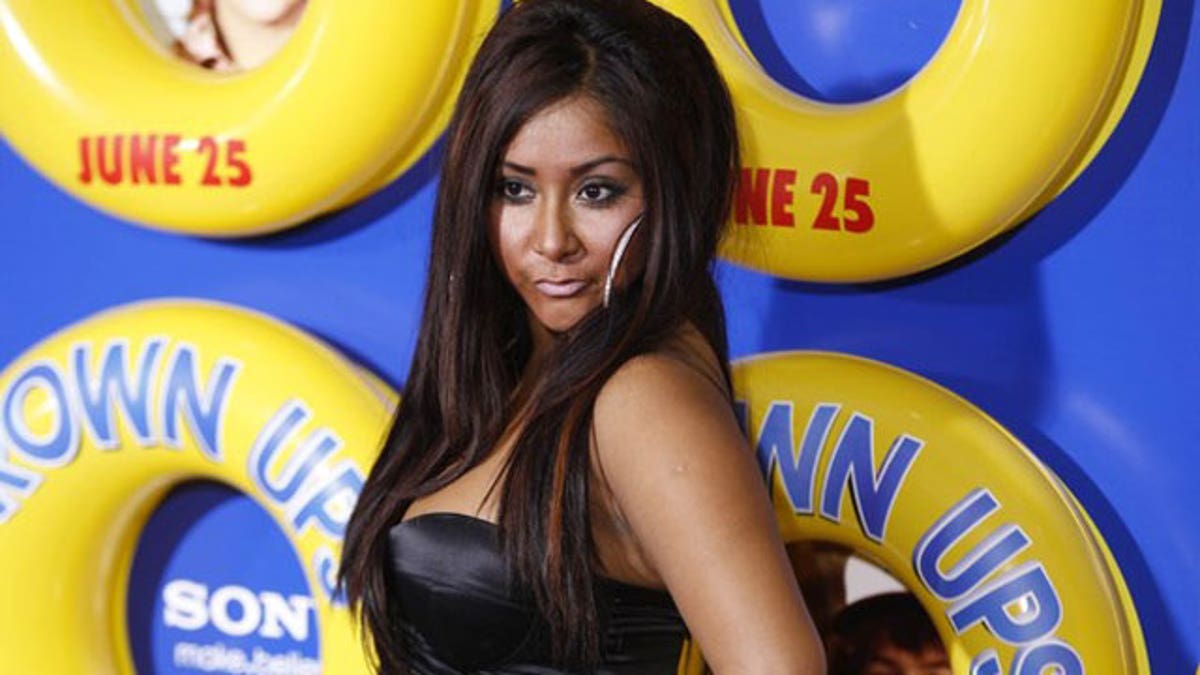 LOS ANGELES – Reality shows popular with young viewers are airing more and more disturbing scenes of domestic violence and battery.
On the September 28 episode of MTV's "Teen Mom," a show that targets viewers as young as 12, enraged star Amber Portwood violently kicked, punched and slapped her on again/off again fiancé and the father of her child, Gary Shirley.
She then embarked an emotionally abusive tirade, calling him "trash" and "a fat piece of sh*t" – all in the presence of their 23-month-old daughter. The episode reportedly prompted local authorities in Anderson, Ind. to launch an investigation of domestic violence.
On last Thursday's episode of MTV's "Jersey Shore," which also targets the same 12-34 demographic, Mike "The Situation" Sorrentino sparked outrage among audiences when he slapped a shocked Snooki on the cheek during a confrontation when she refused to leave the nightclub. He then came forth and said he has "no regrets" about his behavior and said it was simply "a love tap" that signified he was looking out for her, and wanted to avoid the infamous season-one incident in which Snooki was punched in the face by a fellow bar-hopper.
"Reality television plays to people's worst instincts and depends on people behaving badly, manipulating others, lying and violence," Matt Philbin, managing editor of the Culture & Media Institute, told Pop Tarts. "The mere suggestion that a teenage girl bashing up the father of her child is somehow entertaining; well there is something wrong with that."
Another expert says shows featuring the E! network's most popular reality family, the Kardashians, could also be perpetrating violent relationships, as Kourtney Kardashian continues to stay with her partner and father of their 10-month-old son, Mason, despite numerous frightening incidents.
In season two of "Kourtney & Khloe Take Miami," terrified new mom Kourtney was seen cowering and locking herself in a room with their then five-month-old as Scott Disick litters the floor with broken glass amid a violent alcohol-induced tirade. Her sister Khloe even recently claimed Disick "has murder in his eyes," and mother Kris Jenner likened him to O.J Simpson.
"This sends a message to young people that bad behavior can be turned into a TV show and bring with fame, fortune, nice cars and a lavish lifestyle," New York-based psychotherapist Jonathan Alpert said. "Young people look at reality stars as role models so continual airing of all of this can be very dangerous."
But while Jenny Salisbury, the development director at the domestic violence organization A Woman's Place (AWP) says she is repulsed by all forms of violence, she does not condemn MTV and other networks for airing it.
"A Woman's Place (AWP) does not necessarily believe that acts of violence that occur during the filming of television shows should not be shown, within reason. By not showing or making the audience aware that an incident did occur, the media would be ignoring the issue as opposed to responding to it. Domestic violence is an issue that affects everybody and needs to be brought to the forefront," Salisbury explained.
Instead, Salisbury argues that networks should use such incidents as an opportunity to educate young viewers about domestic violence.
"If a network were to air a domestic violence incident and then use it as an opportunity to educate their viewers on what domestic violence is and where individuals can seek help and support, they are turning a negative situation into one that could potentially save the lives of those that watch the show," she added.
In the case of the controversial "Teen Mom" episode, MTV did indeed air a domestic violence PSA during commercial breaks.
Philbin for one thinks the issue will soon be moot, arguing that reality television will become too much for the American public, and thus "fade to become a minor genre."
"We are already starting to see backlash with reality shows pushing too many boundaries, eventually they will push past the boundaries of what tastes and censors will allow,' he said. "Hopefully people will see that all the self-destructive behavior is really not that fascinating anymore."
Deidre Behar contributed to this report.