Rain Dove: Asia Argento called me 'a monster' for turning over texts to police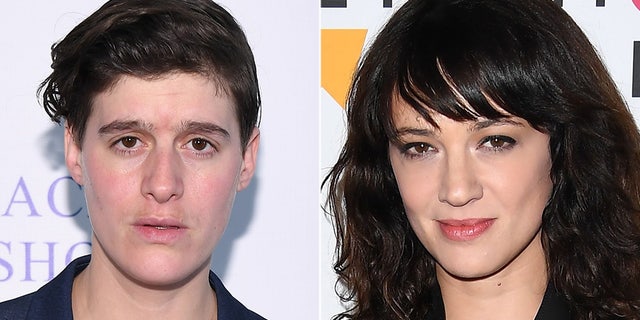 Rain Dove, the model Rose McGowan named in her statement on Monday, confirmed giving investigators a series of text messages in which Asia Argento allegedly admitted to a sexual encounter with a minor.
"I did it because it's just the right thing to do," Dove, who prefers non-gendered pronouns, told Fox News on Wednesday.
"I gave this person the opportunity to be honest, and they chose not to be, and I didn't want to be complicit, so I turned them in to the police," the 28-year-old explained.
According to Dove, the text message exchange started when Argento reached out on the day before The New York Times article was published. In the bombshell report, Argento was accused by child star Jimmy Bennett of setting up a sexual encounter with him in California in 2013 when he was 17 and she was 37. The legal age of consent in California is 18.
"It basically said, 'I'm in deep sh--. I just barely got this message that, like, I'm going to be sunk," recalled Dove of the initial message.
When The New York Times reached out to Argento and her reps for comment on the coming report, Dove advised the actress how to respond, according to the outlet.
"I talked to her and asked her how much of it was BS and how much of it was real, and she said she was completely 100 percent innocent, and she just wanted to get back on track to being an activist in the community," Dove told Fox News. "So I offered to help walk her through the process of what she would need in order to clear her name."
Dove went on to explain that during the process, while asking Argento questions, "it became increasingly apparent that this individual was not only, not telling the truth, but that they didn't intend on ever telling the truth to the public."
"By the end of it, we went from, 'Never slept with anyone and did not do anything' to 'I slept with this person. I've received nude images from them for years and didn't report them and/or asked them to stop, and I've continued my communications with this person in a sexual manner.'"
Dove emphasized again that they gave Argento a chance, letting the 42-year-old know that they "felt very strongly that she should do something about it, she should say something, and try to live up to her own ethos."
However, two days after The New York Times article was published, Argento released a statement denying the accusations, saying in a statement given to reporter Yashar Ali: "I strongly deny and oppose the contents of the New York Times article dated 20 August 2018, as circulated also in national and international news.
"I am deeply shocked and hurt by having read news that is absolutely false. I have never had any sexual relationship with Bennett."
Dove said they turned the text messages over to the police so as not to "rob" Bennett "of his truth" or the New York Times journalist who published the report "of her integrity." Dove also said they wanted Argento to "be able to stand behind the same truth that she demanded other people had."
"This wasn't a revenge thing, a punishment or a life lesson," Dove said, noting that "in the long run" it will be better for Argento to go through due process.
"If she's able to come back and really remedy with the community, I think it's going to make her a stronger ally for the #MeToo movement," Dove explained, adding: "She'll be one of the rare faces who not only has been a victim, but has been the accused, and she can bridge a gap, but in order for that to happen, she has to own up to her own actions."
Dove said they turned over the messages to the police quietly and asked McGowan, 44, who introduced them, to stay silent about it as well.
"Then somebody leaked it to the press, and a lot of speculation swirled about who was the mysterious friend, AKA, that was me, but nobody knew who it was," said Dove, explaining that a few others were blamed as Asia's "friend," and that's why Dove decided to speak up.
"I realized that I wanted to stay silent and anonymous, but unfortunately people were getting injured in the process, so I only came forward to take responsibility for that, so that way there wasn't going to be any further harm to other peoples' lives over something that was my doing."
Dove continued, "I spoke to [Argento] after the texts got leaked, and she was convinced Rose and I had leaked the text messages, but of course, in fact, we did not."
The model said they did tell Argento they turned over the messages. "I told her that, 'I have to be honest with you, I brought them to the police.' She said that I'm a monster."
Dove added, "I just told her that in order for there to be justice, there has to be truth, and that justice will find its way, but you have to have truth on the table, and she was really angry at that."
A rep for Argento did not immediately respond to Fox News' request for comment.
On Wednesday, Dove also released a lengthy statement on Twitter which read, "I can confirm that the text messages are indeed between Asia Argento and myself."
The statement continued: "When I reported them to police I remained silent socially because I didn't wish to be a part of the narrative or distract from the path to justice."
"While the conflict may feel murky- the situation is cut and dry," they added. "An individual admitted to sexual engagement with a minor (according to the age stated by California) which is an illegal act that can qualify as statutory rape. As well as such they admitted to receiving continued nude images without reporting/blocking the account/written rejection/or action.
"When the individual made it clear that they were not going to be honest about their engagement, I turned in materials that may contribute towards an honest investigation," Dove explained. "All victims deserve justice. Justice can rarely exist without honesty."
Dove went on to say that Argento "asked for assistance" during the case "declaring full innocence," so Dove "systemically took them through the list of things they would need to clear their name."
However, after explaining that they need to "have the intention to do whats necessary to rectify a situation," Dove shared that the actress "did not have that intention."
"This is a person who represents a certain ideal and who has called out for all those accused of sexual assault to be honest about their experiences in order to allow justice for the victims," Dove said. "However when the NYT statement came out, in which Asia denied any sexual engagement that's when it became clear that they were not going to follow their own ethics."
Dove revealed that Argento sent the "original statement" to them before it became public and before she allegedly "had admitted their sexual engagement."
"In it they were dismissive of the victim, put down the integrity of the reporter Kim Severson utilising the guilt power of the opinion of their deceased former partner Anthony Bourdain, and robbed all parties of their truth," Dove said of Argento's statement, adding that "It was painful to read."
Dove continued, "I had hoped that that narrative would change after our conversation but unfortunately the piece went straight to press."
The model explained that before they brought the information they had to the police, they spoke with McGowan.
"I was admittedly a little nervous because I knew that Asia was an important person in Rose's life," Dove said, noting: "When confronted with the messages and knowledge that I was going to go to the police, Rose immediately agreed that it was the right action to take.
"No begging or bargaining. No anger. Just very matter of fact," they shared. "I know this is a painful loss of community in Rose's life and I'm proud of her dedication to the truth. Its tempting to many to cover for their loved ones during rough times, but when a victim is involved on the other end we must think of them. True justice has no bias."
Last week, Bennett, now 22, broke his silence in a statement obtained by Deadline, saying: "I did not initially speak out about my story because I chose to handle it in private with the person who wronged me.
"My trauma resurfaced as she came out as a victim herself. I have not made a public statement in the past days and hours because I was ashamed and afraid to be part of the public narrative."
On August 19, The New York Times reported, citing court documents, that Argento paid roughly $380,000 to Bennett after he confronted her regarding the alleged sexual encounter that took place in 2013 in a California hotel room.
In the documents, Bennett sought to sue Argento for the alleged encounter at the Ritz-Carlton hotel in Marina del Rey, Calif. At that time, Bennett allegedly showed him notes she had previously written to him and gave him alcohol. She then reportedly kissed him, pushed him back on the bed, performed oral sex on him and then the two had intercourse.
Last Wednesday, TMZ published a photo and text messages that appeared to contradict Argento's claim that nothing sexual happened between she and Bennett.
The celebrity gossip site reported that the photo of Argento and Bennett – in which they both appeared topless – was taken in a hotel room back in 2013. Citing "sources," TMZ reported that the photo was taken after "intercourse."
TMZ also published text messages reportedly "between Argento and one of her friends" last week in which a person the site claimed was Argento admitted to having sex with a minor. It was unclear how TMZ obtained the photo and alleged conversation.