R. Kelly accuser says singer tried to force her to perform oral sex: 'Celebrities are powerful'
A woman came forward Thursday morning to accuse R&B singer R. Kelly of sexually abusing her in 2003 while she worked as his hairdresser.
Lanita Carter said on "CBS This Morning" that on Feb. 18, 2003, Kelly tried to force her to perform oral sex on him and spit on her.
"I get a phone call to come down and do his hair… When he came to the room and he asked me for that head massage, and I told him I didn't do massages, I laughed it off. And I didn't know he was for real," Carter told CBS News correspondent Jericka Duncan. "If I could change that day – I wouldn't have been there."
R. KELLY'S TEAM LIKELY ENABLED HIS SEXUAL ABUSE FOR YEARS, PROSECUTORS ALLEGE
"He pulled my braid down by him. And he say, 'Suck it for daddy, suck it for daddy.' And I said, 'No.' And I did like this. And he just started going [spitting noises]. He did it, like, six times," Carter claimed. She said the singer only stopped when there was a knock on the door.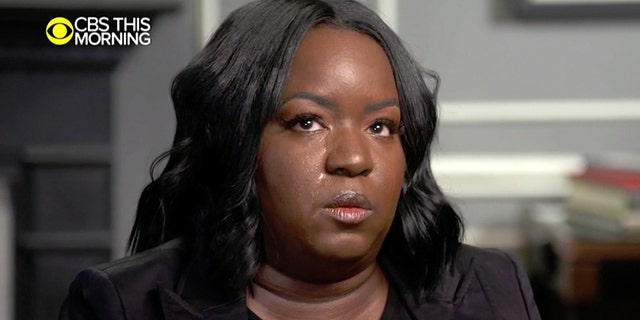 "He didn't open the door right away. He says, 'Fix your face! Fix your motherf---ing face'" Carter recalled. "I knew that it'll be my last day there… And I get to the bathroom, and I grabbed a wall, and it was a rose-colored towel… I wiped my face… I'm not dressed no type of way. I look at myself in the mirror, like, I'm not a beauty queen. I didn't perceive myself to be nothing more than just his hair braider."
R. KELLY ACCUSERS RECALL HARROWING SEXUAL, DOMESTIC ABUSE
"And I was kept thinking to myself, like, 'Why did this happen to me?'" she said adding that she called the police that very day.
"They asked for my clothing. And I gave them my favorite Tommy Hilfiger shirt," Carter told Duncan. "And that's where they found DNA evidence."
"DNA evidence from R. Kelly on your shirt?" Duncan asked.
"Semen," Carter replied.
R. KELLY DENIES SEXUAL ABUSE ALLEGATIONS: 'I DIDN'T DO THIS STUFF'
According to CBS, Carter is the woman identified as "L.C." in the February indictments against Kelly. He's charged with 10 counts of aggravated sexual abuse for allegedly assaulting three girls and one woman in cases dating back decades.
Carter says she was 24 at the time. Her allegations generally match those in the grand jury indictments and outlined by the Cook County state's attorney.
Kelly has denied all of the allegations and his attorney, Steve Greenberg, told CBS News: "These allegations were fully investigated by the police and prosecutors ... and a decision was made, after evaluating all of the evidence, not to bring any charges."Carter said she decided to contact authorities again with her allegations after the Lifetime documentary series "Surviving R. Kelly" aired in January. Before the alleged abuse, she said, she told others Kelly had been a "perfect gentleman" with her.
R. KELLY ACCUSERS RECOUNT HARROWING SEX, DOMESTIC ABUSE ALLEGATIONS
Carter said of coming forward: "Celebrities are powerful. Celebrities have support systems. I have no support system outside of my immediate family."
Carter said Kelly's interview with Gayle King on "CBS This Morning," during which he leaped up in anger and denied multiple allegations of abuse, led to her decision to break her public silence.
"I'm not ashamed of my past anymore," she said. "I'm not ashamed of what naysayers say."
The Associated Press contributed to this report.