QA: Vanessa Williams writes of sexual abuse, teenage abortion in new book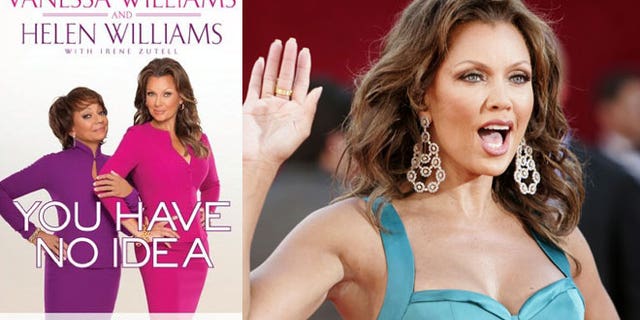 In the new book "You Have No Idea," Vanessa Williams and her no-nonsense mother Helen Williams give an often hilarious and moving mother-daughter take on Vanessa's many professional achievements, as well as her sometimes rocky personal life.
The book pulls no punches. Vanessa discusses in depth the nude photo scandal that abruptly ended her reign as the first African-American Miss America, writes movingly of being sexually molested as a child, and reveals she had abortion as a teenager.
Fox411: Why did you decide to write a book now?
Vanessa Williams: I'd been approached a bunch of times to do a memoir but I never felt it was the right time because I felt I had a lot of living to do. I had a done a mother/daughter piece for Oprah maybe five years ago and they called me last year saying they wanted me and my mom on again. I said, 'Huh, there's something here with our relationship.'
People that have grown up with me and know my mom know she's a character. Anything that happens in my life, my friends say, 'What did Helen say?' She's legendary in her own right. I thought well this is a much more interesting story, our parallel experiences, to see how a mother protects, a mother defends and being a mother of four myself, I could completely relate to what she was going through. It was a great spin on it.
Fox411: You write of how you were molested as a young girl.
Williams: When I was structuring the book, one of the ideas was to start it off with the [Miss America] press conference, speech, and legal team, all of that stuff. One of the questions I was asked [by my lawyers before the press conference] was if I'd ever had any relations with women and I said, 'Well I was molested as a child by a woman,' and they said that might come up. That's when I said I don't want to fight anymore. I've been raked over the coals already so that was a pivotal moment for me not to be dragged through the mud anymore.
[pullquote]
WATCH: Vanessa Williams music videos.
It's also an opportunity to show what I was hiding from my parents. My mother didn't know about it till she read the book. It tipped off my rebellious nature. [The molestation] didn't create it, but it definitely was part of me being impulsive in terms of where my head was at at a very young age.
Fox411: How old were you when you posed for the photos that appeared in Penthouse and cost you the Miss America crown?
Williams: I certainly had a sense of self and had achieved much at 19, but I'm a risk taker.
Fox411: How did you get through that media tsunami?
Williams: I guess it's the resilience my mom demonstrates. You just keep moving on. I didn't have time to sit and grieve or mourn. There was no downtime to wallow in suffering. I'm not that kind of girl anyway.
Fox411: You also write that you had an abortion as a teenager.
Williams: Who knows how life would have been different? I think the bottom line is I definitely would have been where I am now even if I'd gone down another path. It doesn't take away from the drive or the talent. You can make your life whatever you want with or without a child.
Again that's just to illustrate that so many people saw me as this particular symbol and the message is that there was a normal 20 year old who had experienced a lot up until that time before I was crowned. That's kind of what the title of the book is about. When people said, 'Oh you can sing?' I said, 'you have no idea what I've done prior to what you know me for,' and that's been the theme of my life.
Fox411: Are you a strict mom?
Williams: Not as strict as my mother was. I am a structured mother.
Fox411: Don't you feel like saying to your kids 'You have no idea how good you have it?'
Williams: Oh they know! I certainly remind them which I think every parent does. They get constant reminders, but they also appreciate the hard work that I do to put them through school and take them on trips and buy them things. I've got great kids, they always show how appreciative they are, and they thank me for making dinner for them.
Fox411: You're a practicing Catholic.
Williams: We go to church on Sunday. I love the practice of praying, which is akin to meditation, where you're still and focused and grateful. I think that it's very important to stop the spinning at times and just focus and be thankful.
There are some priests in the church who made me feel very welcome in our parish. I have very supportive relationships with, I would say, three priests that I truly love, that are great men that made religion not a scary place.
Fox411: You also write of how your mom found you and your teen boyfriend in bed together?
Williams: (Laughs) I am very lucky to have kids that are not like me. Well I did buy a Mercedes for my mother on her 60th birthday, and I just upgraded it a couple of years ago.