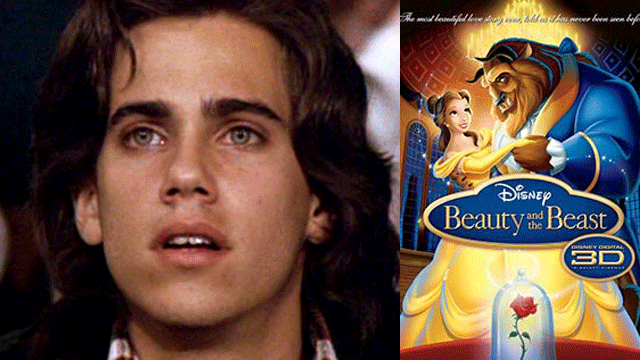 The classic Disney cartoon 'Beauty and the Beast' has just been released in 3-D, so we thought it would be a good time to catch up with the voice of the Beast, Robby Benson.
Yes, the star of 'Ice Castles' is also the voice of the Beast!
The 56-year-old actor has been in show business since he was a kid, appearing in movies like 'Ode to Billy Joe,' directing episodes of 'Friends,' and writing music with his wife, singer Karla DeVito.
FOX411: 'Ice Castles!' Greatest chick flick ever! Did you ever think the tripping over the roses was a little much?
Benson: Honestly I always thought that the story was a bit farfetched, that's a nice way of saying it. I don't want to hurt anybody's feelings. A girl goes blind and then she wants to go to the Olympics as an ice skater, but you know what? It hit the right audience and that's what making movies is all about, entertaining people. I'm really glad I was smart enough to take it, but dumb enough to not go, hey wait a minute.
FOX411: And then you have 'Beauty and the Beast,' that's another classic.
Benson: Oh thanks, the wonderful thing is the credit belongs to Ashman and Menken (the composer and lyricist) and the animators. They did a remarkable job.
FOX411: Yeah but the voices are so important.
Benson: Well that's kind of you, thank you.
FOX411: We were surprised when we first saw you were the voice for the Beast. You seemed more soft spoken in previous roles.
Robby Benson: It's probably the most typecast I've ever been in my life; it was a perfect fit actually.
FOX411: How so?
Benson: Because of my mane, my personality, he's pathetically funny. I made him pathetically funny I think, in a very poignant but very real way. It just gave me a chance to do what I know how to do which is to use the baritone and bass part of my voice. Everyone would look at me and they'd want to hear a tenor, but actually I'm a bass.
FOX411: Were you surprised at the success of the movie?
Benson: I don't think anyone can literally say they know something's going to be a hit. What I did know because I've been working all my life is that we were working on a project of supreme quality from the animators to Ashman and Menken. It had such incredible weight to it as far as storytelling.
FOX411: Does it make you verklempt to watch it now?
Benson: I don't think that way. I usually do a job, am very, very passionate about it, and then move one. The only thing I never move on from is my marriage; we've been married 30 years.
FOX411: You were a teen idol. You must have had so many girls hitting on you.
Benson: You know what? It didn't really matter to me. Ever since I was a little kid I wanted to get married. I think because of the way I was brought up and seeing my parents in love. My goal in life was to find the perfect woman and it just so happens that I did. Her name is Karla DeVito.
FOX411: Wasn't she the singer in those Meatloaf songs?
Benson: Yeah! She's got the best voice on the planet earth. We met doing 'The Pirates of the Penzance' on Broadway. I told the conductor a week after I met Karla, 'She's the one,' and she still is.
FOX411: Do you sing her the theme song from 'Beauty and the Beast?
Benson: No, I write music. Actually the last eight months I've been working on the most rewarding project I've ever worked on - it's a collaboration between me and Karla working on our daughter's debut album. Her name is Lyric and it's called, 'Lyric's Love Light Revolution' and it's on iTunes and Amazon.
I've always had a home studio. We've sold songs, we wrote the song in 'The Breakfast Club' that the kids dance to in the library, we've sold songs to Diana Ross, and we've got gold records. I've scored movies, but this was actually the best project I've ever worked on.