'Psycho' star John Gavin dead at 86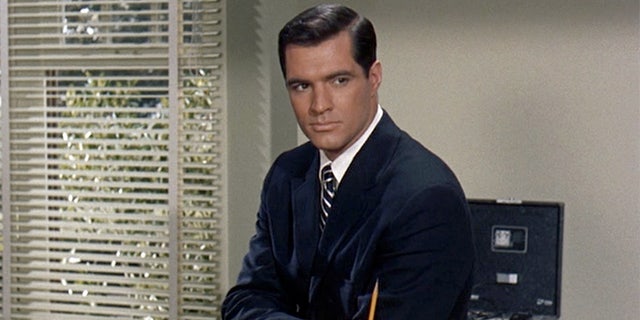 John Gavin, the movie star who graced the big screen in "Psycho," "Imitation of Life" and "Thoroughly Modern Millie" has died at age 86, Fox News confirmed Friday.
"He died this morning after a long illness," Budd Burton, the manager of Gavin's wife actress Constance Towers, told Fox News.
TMZ claimed Gavin succumbed to complications from pneumonia after battling leukemia. He was reportedly first hospitalized just days before Christmas before he later passed away surrounded by his family in his Beverly Hills home.
The tall, strikingly handsome entertainer had led a decades-long career in Hollywood. He won a Golden Globe for 1958's "A Time to Love and a Time to Die," appeared alongside blonde bombshell Lana Turner in 1959's "Imitation of Life" and starred as Julius Caesar in 1960's "Spartacus" with Kirk Douglas, among others.
He famously played Janet Leigh's divorced lover Sam Loomis in the 1960 Alfred Hitchcock thriller "Psycho."
The Hollywood Reporter claimed Gavin was signed on to play James Bond in 1971's "Diamonds Are Forever" before Sean Connery reclaimed the role of the suave superspy.
President Ronald Reagan appointed Gavin as Mexico's ambassador in 1981, a country he already had ties with. His father had invested in the country's mines, and ancestors of his Mexican-born mother had been among California's first Spanish settlers. Gavin had often visited Mexico in his youth and was fluent in Spanish and Portuguese.
Director William Friedkin tweeted, "A sad day, my great friend John Gavin died This morning. One of the finest men I knew And like a brother to me. May he Rest In Peace."
Gavin and Towers married in 1974. He leaves behind two children.
Associated Press contributed to this report.