Plastic Surgeons Weigh In on Demi Moore's Pretty Face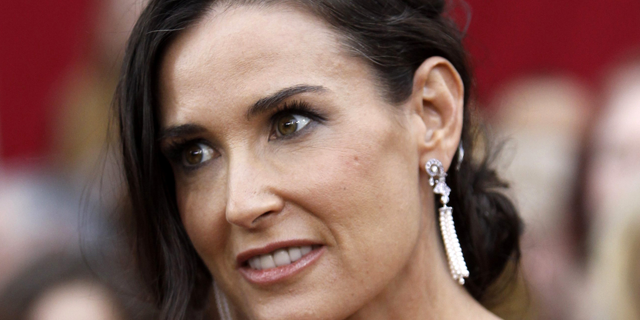 Demi Moore looks pretty spectacular for a 47-year-old, and her rumored engagements with knives and needles have been a hot topic of speculation for several years. But Mrs. Kutcher recently told British ELLE magazine that she's "had work done but not on my face."
Can that be possible?
"I personally think she must have, but I can't prove it," leading Beverly Hills surgeon Dr. Larry Koplin (who does not treat Moore) told Pop Tarts. "As a 47-year-old, she would be defying all laws of nature by looking so good without true surgery, but she certainly could have had a perfect combination of good genes, good fillers (such as Restylane or Juviderm), good skin care and Botox."
Another high-profile Beverly Hills surgeon, Dr. Ashkan Ghavami, (who does not treat Moore) also weighed in.
"She may have at least had Botox for her forehead lines, crows feet and to shape her brows, fillers of some sort for her laugh lines and to plump her cheeks," he said. "It is also possible, that she had a brow lift or at least had some of the brow muscles removed. Upper and lower eyelid surgery may explain some of the changes of her eyelids, although Botox can do that as well,"
But there are other ways to get the same effect, Ghavami said.
"Like most celebrities, she has likely had a lot of skin treatments for improving skin texture, smoothing, and erasing fine lines, as well as stimulating collagen rebuilding. This can be lasers as well as chemical peels. With repetitive skin resurfacing treatments, the skin can get that beautiful glow that Demi Moore has at her age."
And when it comes to work on her fabulous face, the self-confessed "puma" certainly knows how to keep us guessing.
"The remarkable thing about Demi Moore's face is that if she has indeed had plastic surgery, it is undetectable," Koplin said. "The hallmark areas are around the ears, and she keeps this area well-hidden by earrings, hair and photo angles. Whether this is intentional (brilliant) or accidental is beside the point."
Some reports have also suggested that Moore has spent millions and millions in surgical treatments over the years, a supposition she said she finds "irritating."
"It is hard to say depending on what she was charged and how many times they (the treatments) were done, but it can be up to at least $100 to $250,000," said Ghavami. "The reports of spending up to three million dollars on plastic surgery are most likely exaggerations."