Photographers Say Russell Brand's Bodyguard, Friend Assaulted Them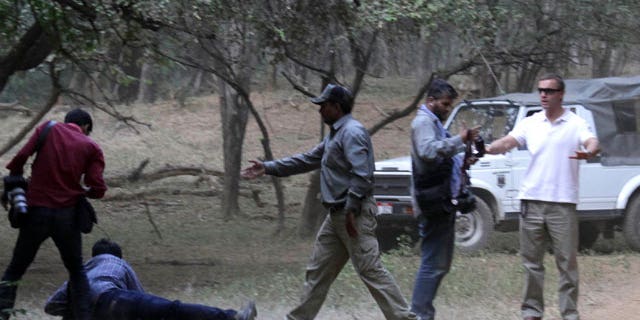 Four news photographers Friday said that they were punched by two men accompanying British comedian Russell Brand when they were taking pictures of Brand at an Indian tiger reserve one day before his scheduled wedding to American pop singer Katy Perry.
According to Associated Press photographer Mustaf Quraishi, who was one of the four photographers injured, Brand himself looked on during the assault as the photographers tried to defend themselves before being left stranded in the wild animal park.
The photographers said they had been following about 330 feet behind two jeeps -- one carrying Brand, an unidentified woman, a man and two children, and the second carrying two men, one of whom was later described by police as Brand's friend and wedding guest. The other apparently was a bodyguard.
As the photographers from AP, Reuters, Agence France-Presse and the Hindustan Times newspaper took photographs of Brand, the second car stopped and the man got out, approached their jeep, punched their driver in the face and snatched the vehicle's keys, AP photographer Mustafa Quraishi said.
Quraishi said he jumped out of the jeep to try to retrieve the keys, but the man then punched him repeatedly, breaking his glasses, smashing and then taking his camera flash and opening a cut on his arm.
When two other photographers came to Quraishi's assistance, the man and the bodyguard both began hitting them, causing one to start bleeding from the head.
The guard and the man then drove away with the photographers' car keys, leaving them stranded in the park -- where 27 wild tigers roam freely, along with leopards, wild boars, hyenas and sloth bears, Quraishi said.
Park rangers later retrieved the keys from the guards' driver.
The photographers filed a police complaint and asked for a written apology. Police summoned the guard and the man for questioning, Quraishi said.
None of the photographers sought medical care.
Brand's London-based publicist did not immediately reply to an e-mail request seeking comment.
Brand and Perry are scheduled to get married Saturday at a resort near the reserve in the Indian state of Rajasthan.
Private security has been stationed at the hotels where guests and the couple are staying for the six-day wedding celebration.
The couple have given the exclusive coverage rights to a London magazine, and no other photographers or journalists will be allowed into the resort.
Brand, 35, was arrested at a Los Angeles airport Sept. 17 for allegedly assaulting a paparazzo in an altercation first reported by TMZ, which aired video.
John Franklin, spokesman for the Los Angeles city attorney's office, said Brand had not been charged with a crime, but was scheduled to discuss the case with a prosecutor next month. Prosecutors have up to a year to file charges, he said, and a misdemeanor conviction could result in a fine and sentence of up to a year in jail.
Perry's second album, "Teenage Dream," was one of this year's best-sellers.
A segment she recently taped for Sesame Street wasn't aired because the show deemed her outfit too revealing for the kids show. The 26-year-old pop singer of "California Gurls" wore a gold bustier top as she sang a version of her hit "Hot N Cold."
In England, Brand has built a reputation for his drug-addled past and hedonistic tendencies, and he's sought treatment for drug addiction and sex addiction. He detailed his storied history in his 2007 memoir "My Booky Wook." Brand is next set to star as Trinculo in a version of "The Tempest" and the title character in a remake of "Arthur."