Peter Dinklage reacts to 'Game of Thrones' ending: 'It was definitely hard to say goodbye'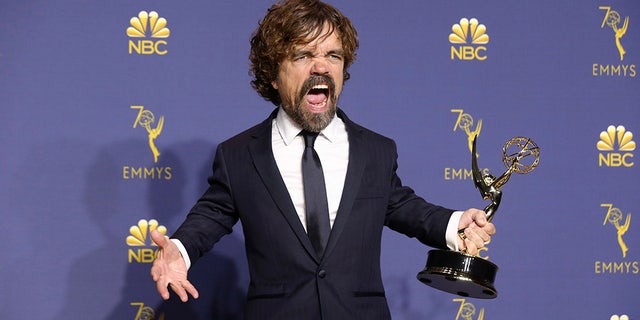 LOS ANGELES – After eight seasons "Game of Thrones" is coming to an end, and Peter Dinklage, who stars as Tyrion Lannister in the hit series, is just as sad as fans to say goodbye.
On Monday, Dinklage took home the Emmy award for Outstanding Supporting Actor in a Drama Series for his role as Tyrion, and when asked backstage in the press room if it was bittersweet that the series was wrapping up, he told reporters "of course."
"I had my last day on set back in July of this year, just a little over two months ago," he continued. "It was very sad. This is not only a great TV show to be a part of but it was an enormous family to be a part of."
'GAME OF THRONES' STAR NATALIE DORMER TEASES SHE KNOWS HOW SEASON 8 ENDS
The 49-year-old actor went on to say that he was far away from his New York City home while the show, which films in Europe, was in production.
"Many times, I had to stay there, and I would leave to go home to New York on weekends, so I really developed deep roots in the community of Ireland and some of the other countries we shot in," he explained. "So it was definitely hard to say goodbye because I wasn't just saying goodbye to the show, I was saying goodbye to a life over there."
As for his next role?
"You just keep searching," says Dinklage. "Hoping that the next writer you come across is equally as talented as David Benioff and Dan Weiss."
For Weiss' part, he hopes that the final "GoT" season will be worth the wait.
"To be honest the final season is taking a long time because it's the biggest thing we've ever done," Weiss admitted to reporters backstage after the show won the Emmy for Outstanding Drama Series.
"I think that when people see it, they'll understand why it took so long," he adds. "No one has gone on vacation. No one's slacking off. It's just that last season is far beyond what we've ever attempted before. It's taking a really f--king long time. But I hope it'll be worth it."
"Thrones" is set to return for its eighth and final season in 2019.