Pete Davidson says his first tattoo was inspired by Ariana Grande's ex Big Sean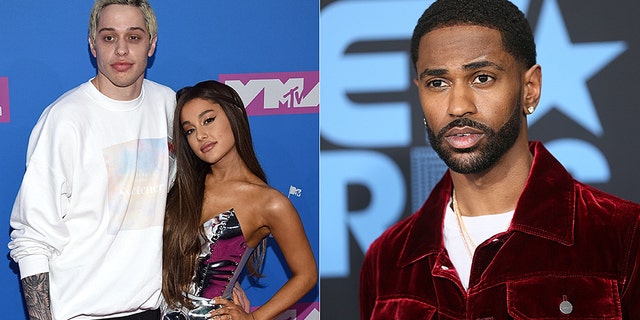 Pete Davidson revealed his first tattoo was inspired not by his fiancée Ariana Grande, but her ex-boyfriend Big Sean.
The "Saturday Night Live" star told Variety his "Swerve Life" tattoo on his leg came from Big Sean's song "Mercy." Grande and the rapper began dating in August 2014 and split nearly nine months later.
"I was 17 when I got my first tattoo. It was a tattoo I got with my buddy Ricky," Davidson told Variety. "It says 'Swerve Life' because the Big Sean song that had that — swerve in it, and we were like 'That's gonna last forever."
"So, that's on our legs," Davidson said.
Despite being his first, Davidson said the lyrics aren't his favorite tattoo out of the many he's gotten inked on his body. Davidson has four tattoos dedicated to Grande, who he got engaged to in June.
The comedian said the black bunny mask on his upper neck, inspired by the singer's "Dangerous Woman" album cover, is his favorite.
"It's super sick," Davidson said.
He also has Grande's initials, a cloud for her latest album "Sweetener" and "H2GKMO" — an acronym for "honest to God knock me out" — inked on his body.
Grande has also shown her love for her future husband by getting a matching "H2GKMO" tattoo on her hand and his name "Pete" on her ring finger. She also has a matching cloud tattoo on her finger.