Penny Marshall, star of 'Laverne & Shirley,' dead at 75
NEWYou can now listen to Fox News articles!
Penny Marshall, who starred in "Laverne & Shirley," has died. She was 75.
A publicist for Marshall told Fox News that the actress died "peacefully at her Hollywood Hills home" from complications due to diabetes on Monday.
"Our family is heartbroken over the passing of Penny Marshall," the Marshall family told us in a statement.
"Penny was a girl from the Bronx, who came out West, put a cursive 'L' on her sweater and transformed herself into a Hollywood success story," the statement added. "We hope her life continues to inspire others to spend time with family, work hard and make all of their dreams come true."
The New York-born actress rose to fame from her hit 1970s sitcom "Laverne & Shirley." She starred as Laverne DeFazio, the Milwaukee brewery worker, alongside Cindy Williams in the hit ABC comedy show. The series, which aired from 1976 to 1983, was among the biggest hits of its era.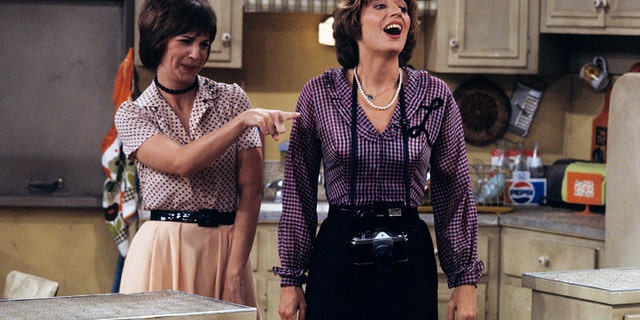 It also gave Marshall her start as a filmmaker. She directed several episodes of "Laverne & Shirley" before making her feature film directorial debut in "Jumpin' Jack Flash," the 1986 comedy starring Whoopi Goldberg.
David Lander, known for his portrayal of Squiggy on "Laverne & Shirley," told Fox News Tuesday that "a comment can't sum up her life."
"Penny will be missed," he added.
Marshall's next film made her the first woman to direct a film that grossed more than $100 million. Her 1988 hit comedy "Big," starring Tom Hanks, was about a 12-year-old boy who wakes up in the body of a 30-year-old New York City man. The film earned Hanks an Oscar nomination.
Marshall reteamed with Hanks for "A League of Their Own," the 1992 comedy about the women's professional baseball league begun during World War II. That, too, crossed $100 million, making $107.5 million domestically.
Marshall also directed Geena Davis, Robert De Niro, Robin Williams, Madonna, Denzel Washington, Rosie O'Donnell and the late Whitney Houston.
Per the statement, a celebration of Marshall's life will be held at a later date.
Marshall is survived by her older sister Ronny, daughter Tracy Reiner, and grandchildren Spencer, Bella and Viva.
The Associated Press contributed to this report.