Pakistani Star Veena Malik Suing Magazine for 'Nude' Cover Photo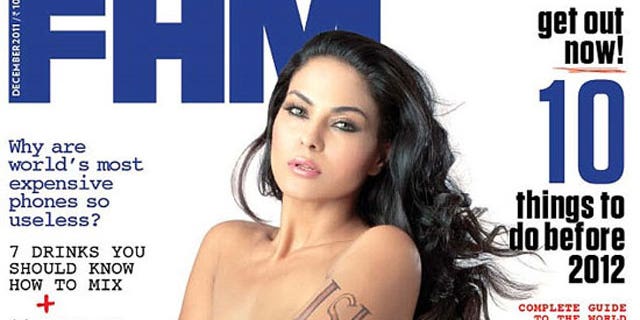 NEWYou can now listen to Fox News articles!
India and Pakistan are going nuclear over this magazine cover showing a naked Pakistani star wearing nothing but a provocative political tattoo.
Readers across the region dropped their jaws at the sight of actress Veena Malik on the cover of FHM India, flashing a smoldering gaze and the tattooed letters "ISI" — apparently in reference to Pakistan's shadowy spy agency, Inter-Services Intelligence.
The photo essay, in FHM's December issue, was meant to satirize the tense relations between the two nuclear-armed neighbors.
CLICK FOR FHM COVER: Is Veena Malik really naked?
Conservatives in Pakistan have lambasted Malik's spread, with one fundamentalist cleric saying it was a "shame for all Muslims."
Even her dad, Malik Muhammad Aslam, took a shot at her, saying authorities should come down on the star for posing nude and bringing embarrassment to Pakistan.
"I have disowned her. I have severed all ties with her, and I don't want her to have any share in whatever meager assets I have until she is cleared of the controversy and pledges not to visit India again," her father told AFP.
And Malik herself is taking shots at the pictorial — or at least the magazine that published it.
She's filed a $2 million lawsuit against FHM, insisting she posed topless but not nude, as the lad mag depicts.
FHM's pictures feature Malik apparently in the buff, with only crossed legs and clever camera angles providing some modesty.
Her lawyer, Ayaz Bilawala, said Malik was wearing underwear.
"For all the images and photographs which were shot, our client had clothes on," the suit claims.
FHM India editor Kabeer Sharma said the photos are authentic and claimed there's video footage of the shoot to prove it.
Sign Up for the FOX411 Entertainment Newsletter.
Malik is no stranger to controversy. On "Big Boss," India's answer to the reality-TV show "Big Brother," she appeared to get busy with an Indian actor.
But she has won fans among liberal and younger circles in Pakistan for speaking out against honor killings and sexual abuse.
Go to NYPost.com for the full report.