Oscar De La Hoya takes swing at 'Southpaw' for stereotypical portrayal of boxers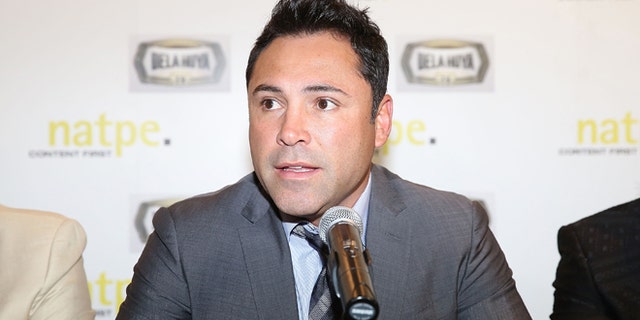 Boxing legend Oscar De La Hoya is a huge Jake Gyllenhaal fan. But ask him about the actor's latest film and the 10-time boxing world champion does not hold back any punches on his criticism of the way the movie portrays the sport of kings.
In a sharply worded review for "The Hollywood Reporter," De La Hoya slams "Southpaw" as lapsing into common stereotypes about boxers and their behavior both in and out of the ring. He also called it "a bit over-the-top" at points.
"'Southpaw' ultimately lapses into stereotype and does a disservice to its audience," De La Hoya wrote. "Gunplay at black-tie functions; fighters unleashing uncontrollable rages at home; promoters fixing fights. Has this type of behavior reared its head in the history of our sport? At times, unfortunately, yes. Is it common? Absolutely not."
While De La Hoya bashes the portrayal of the misbehavior of boxers outside of the ring (no mention of dressing up in women's underwear and fishnet stocking while high on cocaine, though), he does praise the authenticity that "Southpaw" brings to the fighting and training scenes – minus the massive amount of blood that appears to be spilled on the ring's canvas.
De La Hoya attributes much of the film's boxing realism to the help of HBO boxing commentators Jim Lampley and Roy Jones, Jr., referee Tony Weeks and boxer Victor Ortiz, who plays one of Gyllenhaal's character's sparring partners and supporters.
The current head of Golden Boy Promotions, however, heaps great praise on the lead actor himself.
"Gyllenhaal, in particular, is outstanding," De La Hoya said. "His transformation from someone who looked like a small welterweight (maximum 140 pounds) in his last film, "Nightcrawler," into a legitimate-looking light heavyweight (175 pounds) is nothing short of remarkable, and he employs his considerable acting skills to make the audience believe that he could actually be a champion-caliber fighter."
Despite the bad behavior attributed to boxers in "Southpaw," De La Hoya wrote that the film – and the upcoming film "Creed", another addition to the Rocky series – "are helping to bring boxing back to mainstream audiences that we need if we hope to grow the sport."
"And that," he said, "is a great thing."
Like us on Facebook
Follow us on Twitter & Instagram