Old favorites upstage young stars at Grammys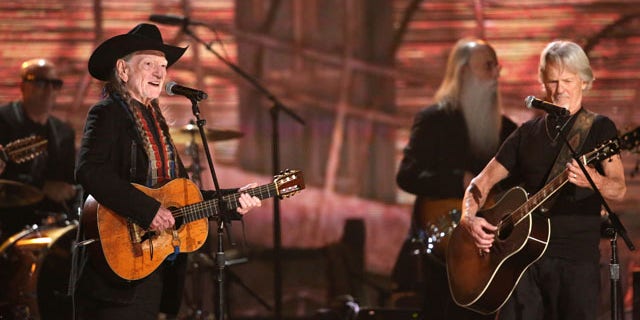 It was the oldies vs. the newbies.
The Grammys are known for featuring a vast array of performers -- different genres, different styles, different generations -- and many are saying that in Sunday night's showdown, the wrinkled wise guys put the slew of new stars to shame.
It was the older generation of seasoned performers that really brought the crowd to its feet and attracted the most enthusiastic responses. There wasn't a single toe not tapping during the Paul McCartney/Ringo Starr reunion with the recently released "Queenie Eye." That was followed by a performance from country legends Willie Nelson, Kris Kristofferson, Merle Haggard, along with Blake Shelton, which ignited much jovial laughter and movement in the house as they revived the classic songs "Highway Man," "Okie from Muskogee" and "Mammas Don't Let Your Babies Grow Up To Be Cowboys."
Carole King's duet with Sara Bareilles was also embraced by the audience, and while there was some debate as to whether Metallica could have done without the piano during its 2014 spin on their old hit "One," the hard rockers ultimately proved they still have everything it takes to make music magic.
The same could not be said for the likes of Katy Perry's "Darkhorse," Lorde's "Royals," and Taylor Swift's "All Too Well." In terms of audience reaction, it's safe to say the energy just wasn't there, and viewers at home concurred.
"Older artists upstaged," viewers tweeted. And with the older set dominating, the Grammys proved itself to be a twerk-free zone.
"I like that the Grammys has a mix of older and younger artists," one observer tweeted. "The VMAs was swarming with preteen singers I didn't know."
Then there's P!nk. None can deny the trapeze-savvy songstress's wicked ability to sing and spin at the same time. But for how long can the star keep doing the same thing?
"P!nk I love you but you need to come up with a new act," one fan added. "This is getting old. Doing the same stuff for 5+ years now."
Follow @holliesmckay on Twitter