New York Times star reporter suspended after sex harassment claim
The New York Times has suspended star White House correspondent Glenn Thrush amid allegations he sexually harassed co-workers, and the journalist is blaming his bad behavior on the bottle.
Word of disciplinary action against Thrush, a frequent critic of President Trump who is also an MSNBC contributor, first came in an article detailing his alleged misconduct on the website Vox.
Thrush, who made a name for himself at Politico before joining the Times in 2016, has been portrayed on NBC's "Saturday Night Live" by Bobby Moynihan. He told Vox that he hasn't had any alcohol since June when he "upset" one of his accusers after a night of "drinking heavily."
"I have not taken a drink since June 15, 2017, have resumed counseling and will soon begin out-patient treatment for alcoholism. I am working hard to repair the damage I have done," Thrush said.
Vox's Laura McGann, who used to work with Thrush at Politico, broke the news and also accused Thrush of sexual misconduct when they were colleagues. She spoke with three other women who described "a range of similar experiences, from unwanted groping and kissing to wet kisses out of nowhere to hazy sexual encounters that played out under the influence of alcohol."
McGann continued: "Details of their stories suggest a pattern. All of the women were in their 20s at the time. They were relatively early in their careers compared to Thrush, who was the kind of seasoned journalist who would be good to know. At an event with alcohol, he made advances."
Thrush issued a statement to McGann: "I apologize to any woman who felt uncomfortable in my presence, and for any situation where I behaved inappropriately. Any behavior that makes a woman feel disrespected or uncomfortable is unacceptable."
Vox reported that a 23-year-old accuser said Thrush left "her in tears after she resisted his advances" on a Washington street corner. Vox also published a series of text messages between Thrush and a friend of the accuser who confronted the New York Times journalist.
"The behavior attributed to Glenn in this Vox story is very concerning and not in keeping with the standards and values of The New York Times," the paper said in a statement. "We intend to fully investigate and while we do, Glenn will be suspended. We support his decision to enter a substance abuse program. In the meantime, we will not be commenting further."
Thrush, who often shares a byline with prolific female journalist Maggie Haberman, admitted he was "pretty loaded" in the series of alleged text messages but promised he would "make it up" to his accuser and blamed negative news about his health for excessive drinking.
Haberman did not respond to request for comment.
"Five years ago, when Thrush and I were colleagues at Politico… he caught me off guard, put his hand on my thigh, and suddenly started kissing me," McGann wrote in the Vox report.
"He kept saying he's an advocate for women and women journalists," a woman told Vox. "That's how he presented himself to me. He tried to make himself seem like an ally and a mentor."
A Politico spokesman declined comment.
McGann's report detailed that "multiple" young, female journalists were warned to be careful of Thrush. "The word among women just starting in Washington, they said, is to be careful if you meet him at an event with alcohol, or if he sends you a direct message on Twitter," she wrote.
Last month, Thrush penned a message on his Facebook page after veteran political journalist Mark Halperin was accused of sexual harassment. Halperin and Thrush were both MSNBC contributors at the time but the network cut ties with Halperin.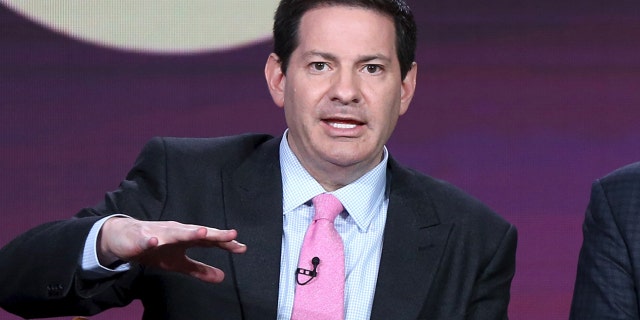 "Young people who come into a newsroom deserve to be taught our trade, given our support and enlisted in our calling — not betrayed by little men who believe they are bigger than the mission," he wrote.
The Times recently issued new social media guidelines so that its reporters wouldn't appear biased, and before taking a twitter hiatus in September, Thrush was presumably among the staffers who motivated the change. Thrush said he stopped tweeting because it was "too much of a distraction" but some of his past tweets would have probably violated the paper's new guidelines.
Thrush has a handful of tweets on his timeline that can be viewed as partisan opinions – including mocking Trump for playing golf and accusing him for being "tougher on Mitch McConnell than Putin or Nazis."
As for Thrush's MSNBC gig, the network is waiting to see how things play out at the Times before making a decision about his future.
"We're awaiting the outcome of the Times' investigation. He currently has no scheduled appearances," an MSNBC spokesman told Fox News.