New York Times boss Dean Baquet admits staffers' 'liberal leanings,' insists it doesn't cause bias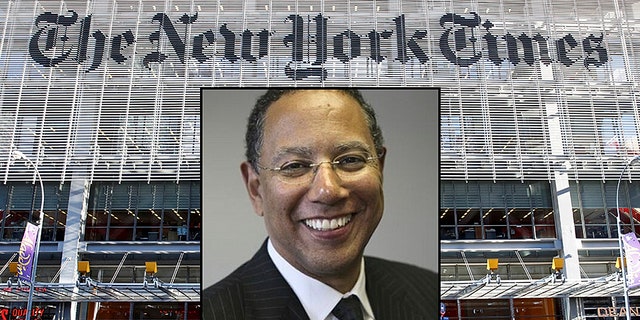 New York Times Executive Editor Dean Baquet said it would be crazy to deny his newsroom is filled with liberals, but he insisted it doesn't keep the paper from being balanced.
"I would be lying if I did not say that a newsroom that is largely built in Manhattan does not have liberal leanings in the lifestyles and attitudes of its employees. That would be nuts if I said that," Baquet said Thursday, according to Politico.
Baquet made the comments at the Financial Times' Future of Media conference in New York. The Gray Lady has long been regarded as the "newspaper of record," and Baquet said the paper has a procedure in place to remain neutral despite a staff largely made up of progressives.
"We have in our culture, and in our institution, a set of safeguards in editing that force us, that allow us, to kind of achieve that balance despite that," Baquet said, denying the paper "has a strong liberal bias."
The Times has broken several major stories related to the Trump administration and its surrogates, making stars out of reporters such as Maggie Haberman. Trump has mocked the paper as "failing," but has also given the Times access that would be unprecedented for other news organizations.
"I think there's tremendous pressure on news organizations like the New York Times to be the leaders of the anti-Trump movement, to be sort of the leaders of the opposition, and that is not a position we want to be in," Baquet said.
During the conference, Baquet also defended the paper's controversial editorial board by supporting the department's embattled chief, James Bennet.
"I agree with what James Bennet is trying to do," he said.
But while Baquet agrees with Bennet, many of his staffers do not.
Last month, Vanity Fair published a report painting the paper's reporters as angry because Bennet has added "diversity of opinion" that doesn't coincide with "Timesian values."
Bennet has come under fire for a sloppy hiring process on the heels of the debacle surrounding opinion writer Quinn Norton, and staffers reportedly are unhappy he's added conservative voices -- such as Bari Weiss and Bret Stephens -- to his staff.
"A surprisingly large amount of his activity has produced outrage, even from inside the building," Vanity Fair's Joe Pompeo wrote of Bennet.
Earlier this year an internal conversation among Times staffers that leaked online peeled back the curtain to reveal there's no end to the hypersensitivities of triggered employees. staffers were outraged because their colleague, Weiss, quoted the Broadway sensation "Hamilton" and tweeted, "Immigrants: They get the job done," in response to figure skater Mirai Nagasu -- whose parents are Japanese immigrants -- landing an historic triple axel at the Winter Olympics in South Korea.
Many people were upset with the tweet, with some critics pointing out Nagasu is an American and others simply not understanding the "Hamilton" reference, according to the internal Slack conversation obtained by HuffPost reporter Ashley Feinberg.
The Slack chat also showed a significant number of Times staffers were fuming and don't enjoy working at the paper for a variety of reasons. Some complained the paper doesn't have a public editor anymore, while others bemoaned the lack of anyone to field a formal complaint.
Times publisher A.G. Sulzberger has also supported Bennet -- who is often rumored to be the eventual successor to Baquet.