NBC News star Chuck Todd on conflicts of interest: 'That's my wife. That's not me'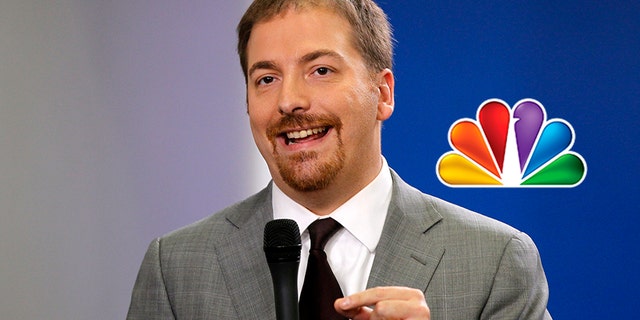 NBC News' Chuck Todd was called out for hypocrisy regarding conflicts of interest during an appearance on WABC's "Bernie & Sid" radio show on Friday morning, but the "Meet the Press" moderator doesn't seem to think his wife's conflicts should stick to him.
Todd has been vocal about his disagreement over how Fox News handled mainstream media outrage over Sean Hannity's relationship with Trump attorney Michael Cohen. However, political commentator Jeffrey Lord has chronicled conflicts of interest surrounding Todd and his wife, who is a Democratic political consultant.
Radio hosts Sid Rosenberg and Bernie McGuirk started their chat with Todd by admitting their friendship with Hannity, which resulted in the "Meet the Press" moderator claiming his beef was with Fox News for not forcing Hannity to explain his relationship with Cohen whenever the subject comes up.
"Just in the same way that any time that I've interviewed somebody that my wife has professionally worked for, I let people know," Todd said.
McGuirk fired back, "Some say you haven't done that all the time."
Todd claimed that anyone who would accuse him of not disclosing relationships didn't do the proper research. It's safe to assume he was referring to Lord, who penned a story earlier Friday for The American Spectator pointing out Todd's potential conflicts.
According to Lord, Kristian Todd, who is married to Chuck, worked with Jim Webb on a 2006 Senate campaign in Virginia, though the relationship wasn't mentioned when Webb appeared on "Meet the Press" in 2017.
Lord also pointed out that the NBC News star's wife also donated to 2016 Democratic vice-presidential nominee Tim Kaine, and that her company received millions from the Bernie Sanders campaign.
"Todd never felt any need to disclose this during his three recent Kaine interviews on NBC," Lord wrote. "Todd has never disclosed this business relationship in 11 Sanders interviews this year."
Rosenberg and McGuirk tried to explain to Todd that he sounded like a hypocrite because of the conflicts surrounding his wife. Todd claimed that NBC was aware of the relationship while playing down the significance.
"That's my wife. That's not me," Todd said. "I think it's a ridiculous place that we're in in society that it's guilt by association."
Todd said that his wife "didn't sign up to work at NBC" and they can disagree on political issues without it impacting his job performance. Todd said he doesn't control his wife's opinions, calling her an "individual thinker" who is free to do as she pleases.
"You're trying to sully me because my wife is an individual thinker in her life," he said.
McGuirk pushed back by saying that critics are simply pointing out a fact when it comes to Todd's wife and conflicts.
"What my wife does with her money is her business," Todd said. "Judge me on my work."
NBC News did not respond to a request for comment.