Nayer & Pitbull Debut "Suave" Music Video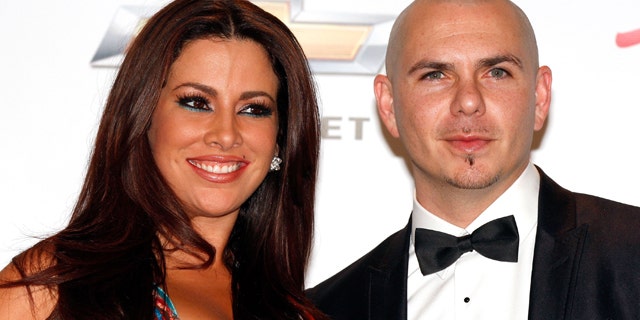 Pitbull is heating things up in Nayer's new music video "Suave" (Kiss Me), a funkier version of Elvis Crespo's "Suavemente" merengue. The song and video also features Swedish-Congolese R&B artist Mohombi.
Nayer, who collaborated in Pitbull's smash hit "Give Me Everything" (Tonight) along with Ne-Yo, rocks out on the beach with a sexy, cut out latex ensemble, while Pitbull sports a classy button down.
Nevertheless, the pop singer says she "loves to eat."
"I think curves are a beautiful thing," Nayer told Fox News Latino at Latina magazine's 15th year anniversary in New York City.
"I do take care of myself… I try to work out."
Nayer and Pitbull performed "Suave" live for the first time at Latina magazine's anniversary. The singer said she's happy to "embrace both the American and Spanish" aspects of her personality with this single.
"I definitely want to be a representation of all these independent women doing their thing," Nayer said. "[I] embrace the fact that I'm Latina."
Nayer, 25, added that Pitbull is someone very important in her life.
"Pitbull is my brother from another mother," said Nayer. "I'm happy that we are both here together doing this Latin movement."
The lavish event, held at Espace in New York City, was a red carpet extravaganza in which some of the biggest names in the Latino world showed off their best assets.
Kat Deluna, for one, glided through in a classy and shimmery dress.
The 23-year-old pop singer said she feels empowered by the message that the magazine gives to young women like herself.
"I love being Latina," said DeLuna. "I was taught from an early age to fight hard.
"El Poder, the power behind myself that pushes me every day is because I am Latina," she added.
The head of Latina, Galina Espinoza, said she is proud of what the magazine has done for Latinas.
"It's been so exciting to see all of the amazing changes that have happened for Latinas," said Espinoza. "We are so much more accomplished and made great strides. We are shaping pop culture today."
Pitbull closed the event, which was sponsored by L'Oreal, with a high energy level performance of his signature dance songs that had all attendees, old and young alike, shaking their tail feathers.
You can reach Alexandra Gratereaux at: Alexandra.Gratereaux@foxnewslatino.com or via Twitter: @GalexLatino
Follow us on twitter.com/foxnewslatino
Like us at facebook.com/foxnewslatino