Montreal jazz festival cancels 'SLAV' show that cast white performers as black slaves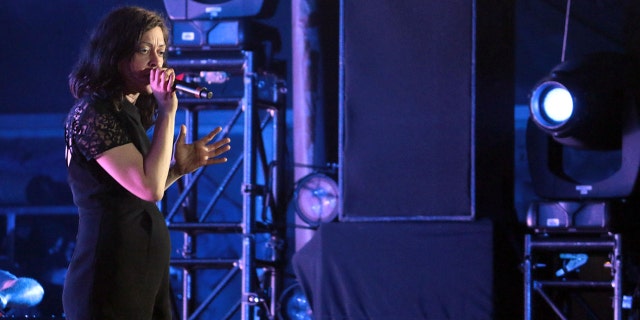 The Montreal International Jazz Festival decided to cancel the controversial stage show "SLAV," which featured white performers dressed as cotton pickers and poor field workers singing African-American slave songs.
The New York Times reported the production, by Quebec theater director Robert Lepage, premiered last week but immediately sparkled backlash.
The show was described as a "theatrical odyssey" inspired by "traditional African-American slave and work songs." It featured a nearly all-white cast including its star, Betty Bonifassi, along with Lepage.
Two of the seven cast members are black, including Kattia Thony, who plays a young woman searching for her identity.
While "SLAV" sold more than 8,000 tickets and was scheduled for 16 performances, the jazz festival, along with Bonifassi, were forced to cancel the show Wednesday after two publicly jeered performances.
The organization behind the festival said it had been "shaken" by the immediate, intense criticism it received from viewers.
"We would like to apologize to those who were hurt," the festival announced in a statement. "It was not our intention at all."
Singer-songwriter Moses Sumney canceled his Tuesday night performance in protest of the event's ties to a show on slavery performed by whites. The black entertainer criticized the festival, saying "Slav" constitutes cultural appropriation.
Instead of performing at the festival, he played two back-to-back shows at a Montreal club venue.
"Their songs are taken from them by white people and performed to rooms full of other white people for high ticket prices," Sumney wrote in a letter to festival organizers that he also published on his Tumblr blog. "I much would have preferred seeing actual black Americans sing their own slave songs."
Bonifassi told the Montreal Gazette last week that she didn't "feel badly at all" about the production. "I don't see color. To me, it doesn't exist, physically or in music," she said.
In his letter to the festival, Sumney criticized Bonifassi's comments, saying that "the solution to racism is not to erase race altogether."
He also compared "SLAV" to blackface minstrel shows.
"The only thing missing is black paint," he wrote.
When contacted by The Associated Press, the jazz festival's media relations director, Greg Kitzler, said, "We respect his decision and hope Moses Sumney will perform at the festival in a near future."
The New York Times noted that at the show's premiere last week, protesters heckled and blocked theatergoers, mostly older and white, as they attempted to enter the Théâtre du Nouveau Monde in downtown Montreal.
Angry critics shouted "Shame! Shame! Shame!," "Dirty racists!" and "White supremacists!" Consequently, police had to clear the way for the audience.
One black protester even held up a sign that read "Is there nothing y'all won't steal? White culture is theft." A black protester also claimed a female theatergoer slapped her in the face.
The Hollywood Reporter shared that Bonifassi, a Montreal-based singer, is best recognized for her Oscar-nominated work on the soundtrack for "Les Triplettes de Belleville," which included a performance at the 2004 Academy Awards.
The annual jazz festival offers both free outdoor shows and indoor ticketed events. This year's show highlighted performances by Seal, Charlotte Gainsbourg, Ziggy Marley and Leslie Odom Jr. of "Hamilton" fame.
The festival promised refunds to ticket holders.
The Associated Press contributed to this report.