Miss USA contestants take stage in 64th annual pageant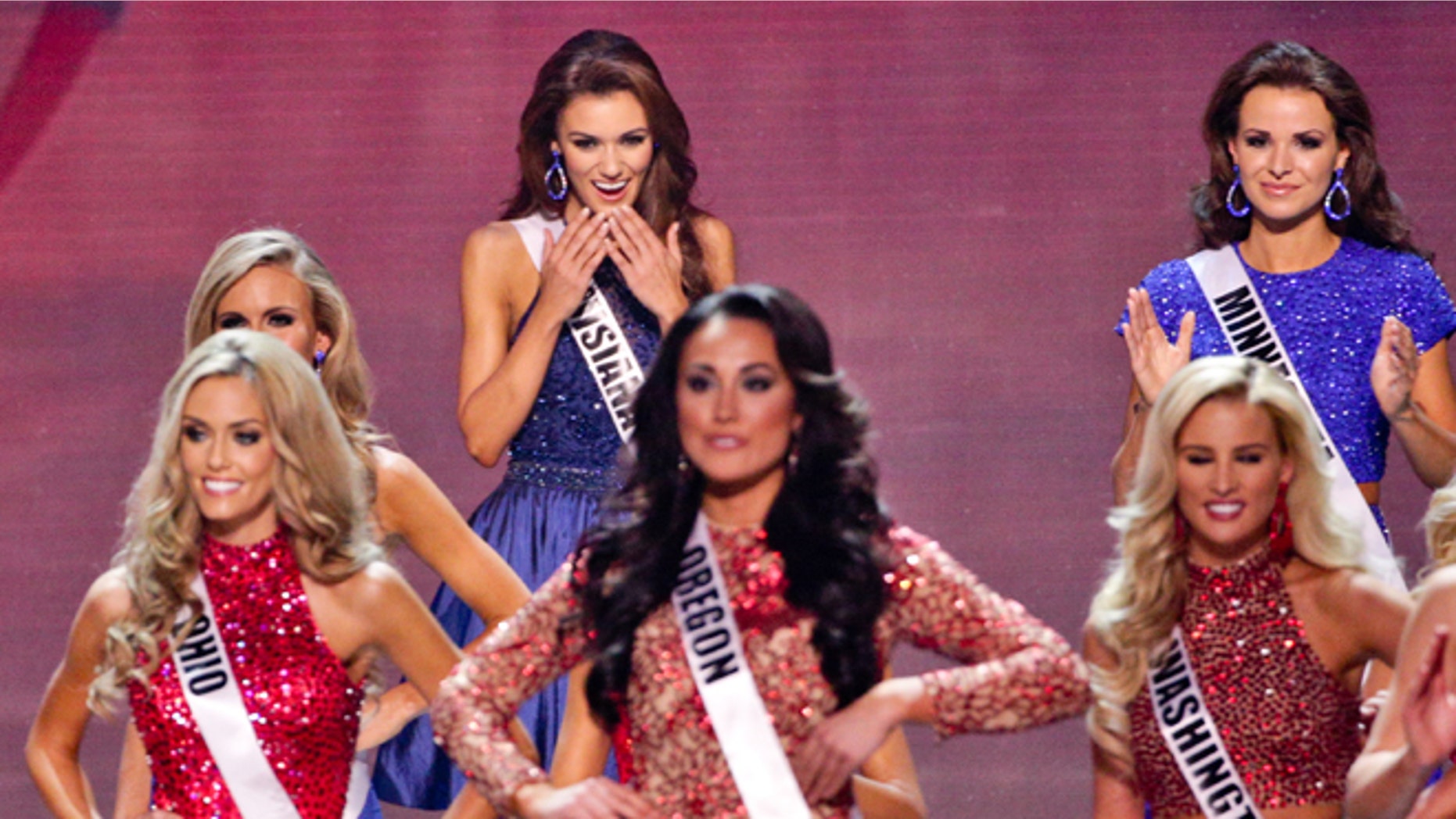 BATON ROUGE, La. – Women from across the country Sunday took the stage to vie for the title of Miss USA in a decades-old beauty pageant of dazzling dresses and sexy swimsuits that has been dogged this year by comments made by Donald Trump bashing Mexican immigrants.
The pageant co-owned by Trump is taking place Sunday evening in Baton Rouge for the second year in a row.
Singers Travis Garland and former American Idol finalist Stefano Langone started off the show with three songs "Born on the Bayou," ''She's a Bad Mama Jama" and "American Woman" as the contestants strutted onto the stage and introduced themselves and their states.
Then they announced the fifteen women who will go on to the next round of the pageant. The women represent Texas, Arizona, Michigan, Virginia, Rhode Island, Kentucky, Hawaii, New York, Illinois, Nevada, Oklahoma, Delaware, Louisiana, Maryland and Alabama.
In video segments played along with the show, the women described their lives back home and the causes they hope to promote if named Miss USA.
Anea Garcia from Rhode Island told viewers how she was homeless at times while growing up after her grandmother — who had raised her — lost her job.
Pageant organizers also showed a video segment of various contestants discussing their immigrant ties including a contestant whose parents emigrated from Vietnam.
Trump's comments critical of Mexican immigrants during his presidential campaign announcement sparked a backlash against the business tycoon's empire, including the Miss Universe organization that includes the Miss USA pageant.
In his June announcement, Trump said that some Mexican immigrants to the U.S. bring drugs and crime, and that some are rapists.
Broadcasters NBC and Spanish-language broadcaster Univision said they would not show the contest. Judges and performers pulled out.
Organizers scrambled to find replacements as the pageant was approaching.
Reelz television stepped in to air the contest, saying that the pageant and the women who compete in it "are an integral part of American tradition." The station also said Trump would not profit from the deal.
The contest found replacement hosts and is bringing back a slew of former winners from Miss USA and Miss Universe as judges.
They've also highlighted the diversity among the contestants, including those of Hispanic descent.
Paula Shugart, who heads the Miss Universe Organization, thanked the chief executive of Reelz and the returning pageant winners for stepping in to help.
"I love you all. You are the only reason we exist," she said to the women during a news conference Sunday.
Shugart said the challenges of the past few weeks will make for great practice for whichever woman is crowned Miss USA, providing a lesson on how to stay focused: "You have to forget everything going on around you."
When asked if the relationship between the pageant and Reelz would last beyond Sunday night, Stan Hubbard said the agreement was for one night only.
The judges talked about their love of the organization and said they know first-hand what the women are feeling.
"I feel pressure," said Miss USA 2010 Rima Fakih. She said she considers it a very important job to pick the next woman who will "carry the torch."
Contestants are judged in three categories: evening gown, swimsuit and a personality interview.
The 51 women represent every state and the District of Columbia.
Natasha Martinez who represents California said during an interview with The Associated Press earlier this week that she didn't think Trump's comments have overshadowed the contest but it has provided an opportunity for her and others to show what they're doing.
"You know, this isn't about how big your hair is on stage or how good you look in a bikini. It's an opportunity for these girls to be advocates for what they're passionate about," said Martinez, who does breast cancer advocacy.