Mira Sorvino talks aftermath of #MeToo movement: 'It was an incredibly difficult year'
Mira Sorvino said she has zero regrets about coming forward and sharing her horrifying experiences of sexual harassment in Hollywood.
The 51-year-old Oscar-winner was one of the first women to go public with allegations of sexual misconduct against movie mogul Harvey Weinstein, sparking the #MeToo and Time's Up movements. The actress alleged her career suffered from spurning his 1995 advances.
"I feel like [if] even one woman less is raped or is helped or comforted or given some sort of solace in the solidarity that we now have as a movement of survivors and people speaking out for safety and meritocratic society that promotes and protects its members from sexual predation, gender equality, pay equality — If there's some forward progress on any of that then all of it was worth it, even though it was an incredibly difficult year emotionally and psychologically," Sorvino told Fox News.
And Sorvino is still determined to have her voice heard. In September, Variety reported that Sorvino was one of several actresses who advocated for "Take the Lead" or bills that were designed to toughen California's enforcement of sexual harassment laws and make it easier for victims to pursue civil claims. California Gov. Jerry Brown signed into law four of those bills.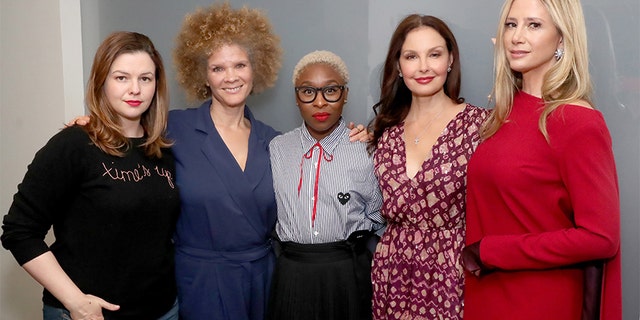 The publication added California also enacted a law mandating that public companies based in the state have at least one female board member by the end of next year. All four bills were sponsored by Democratic female state senators.
Sorvino described them as "the strongest slate of anti-sexual harassment bills in the nation."
"… I called up members of our state legislature and spent days on the telephone just trying to convince people to see that they would only help all of our residents here," she recalled. "… I feel proud to be a part of this movement."
But Sorvino hasn't put acting on hold. In fact, she's currently guest-starring on Season 3 of Sony Crackle's crime thriller "StartUp" where she plays NSA agent Rebecca Stroud. The streaming series explores how a desperate banker, a gang lord and hacker duke it out for power as they are threatened by the U.S. Government.
Ron Perlman, who stars as Wes Chandler, told Fox News he was in awe by Sorvino's warmth on set, as well as her determination to help create a captivating tale.
"It was the first time I had met Mira," explained the 68-year-old actor. "[I] was impressed by her professionalism, her warmth, her generosity coming in on the third season of a show. You're entering an already functioning family. And it can be tricky unless you're as adept at your humanity as Mira is. And so she just blended right in… Most of the time, I blew my line because I just was too busy being an audience member watching her work."
And when it comes to the current political climate, the pair insisted it hasn't impacted their performances.
"Aside from sometimes the situation getting into my head and making me in a bad mood at times, it hasn't affected my ability to perform or my choices as an actor," said Sorvino. "I always try to choose things based on their quality and sometimes based on their social impact… But… no, it really hasn't affected my working life. It's more my psychological life."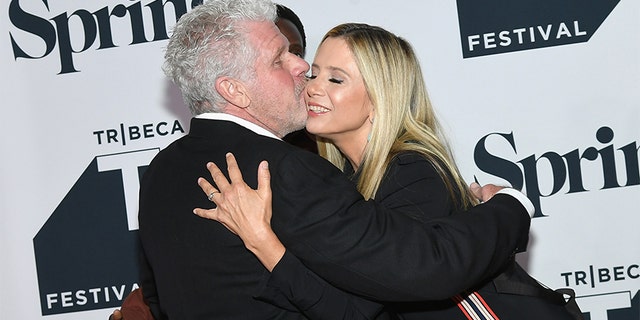 "For me, I've learned how to perform on Xanax," joked Perlman. "Being able to focus while highly medicated due to the political climate we're living in. That's a stretch for me. That's my new skill. Goes right on the bottom of my resume."
Still, Sorvino admitted that filming in Puerto Rico after the devastation of Hurricane Maria greatly impacted her even after cameras stopped rolling. In January, Broadway World reported production for Season 3 of "StartUp" was underway in Puerto Rico.
"I got to know all the amazing people that were on the crew who were from Puerto Rico and saw the devastation that the hurricane left them in and how we really as a country had done so little to help them," she said. "Even almost a year later, like a fifth, at least maybe a quarter of all the roads were still covered... all the road signs are still down and torqued and people were still living without electricity and running water.
"I feel like every job is a journey in which you're learning something as a human being. On ['StartUp'], not only did I get to learn from the story and from my fellow cast members, but I also got to see up close and personal the way that the island was suffering and how our government needs to do much, much more for them."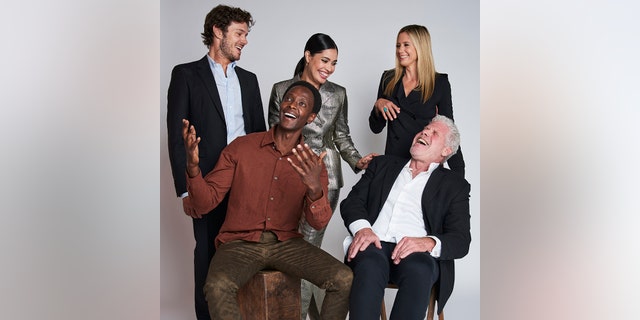 Perlman said the duo are motivated as ever as actors because there are many new stories to tell and many new people to meet — those in particular who can provide eye-opening lessons. Perlman insisted he doesn't take that privilege as an actor for granted.
"I'm never gonna retire," said Perlman. "I'm just gonna keep doing this because it's a phenomenal way to go through life. I love being on sets, be it television or movies, and I love the people I've met — big-hearted, wonderful, imaginative, beautiful people… along the way. It's like a drug for me. So the fact that I'm busier now than ever is, I consider it to be one of the great blessings that could have been bestowed."
These days, Sorvino is looking forward to what the future holds for her.
"I always try not to repeat myself," she said. "I try not to play the same person twice, which goes against the grain of certain philosophies about how to have a successful career — that you find your niche and then you stick it and you kind of play that the same person over and over again.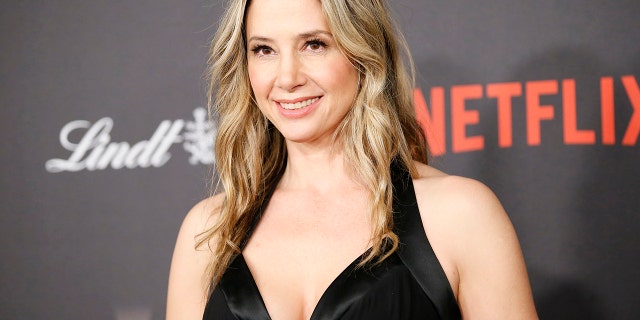 "A perfect example was the great Cary Grant. He was very largely in similar roles, but he was so perfect at. I'm kind of opposite… as an actor. I like to try and disappear into my roles, so each role brings that challenge."
"StartUP" is currently streaming on Sony Crackle. The Associated Press contributed to this report.