Melanie Griffith lashes out at 'superficial' Hollywood machine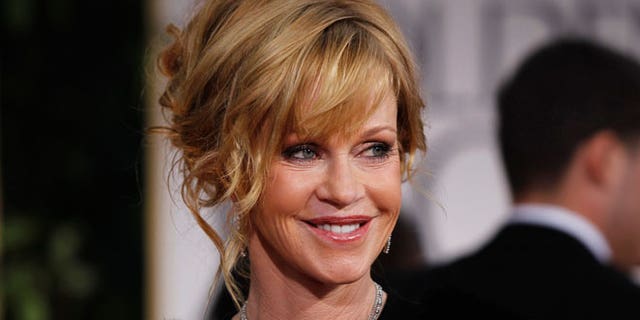 LOS ANGELES – She's one of the most recognizable faces in Hollywood. She won the Golden Globe and was nominated for an Academy Award for her1988 hit "Working Girl." She's the daughter of Golden Era star Tippi Hendren and the wife of Antonio Banderas. But Melanie Griffith says today, the work offers have pretty much dried up.
"It is what I never thought would happen when I was in my 20s and 30s, hearing actresses bitch about not getting any work when they turned 50. Now I understand it, it is just different. In a lot of ways, (Hollywood) a very superficial place," Griffith told FOX411 while promoting her forthcoming independent dark thriller, "Dark Tourist." "It is all about youth and beauty, for women anyway. You just have to keep biting and pushing your way through, doing theater. I believe in just being really good and working on my craft which is how I started in the first place. I really like that as opposed to the fame part of it."
But according to the film star, even the scripts doing the rounds are hardly worth fighting over.
"In this day and age ... most of the scripts are so sh**ty and stupid and superficial," Griffith continued. "It's not that I get that much stuff anymore. But I do read my husband's scripts and what he is offered… The movie business has changed. I don't go to the movies these days because there is nothing to see. There is not very much, some little movies, but the big movies are all cartoons and super heroes."
The actress did note that her husband has written a script especially for her – although he's "very busy and has a lot to do" before bringing it to life – and she has even attempted a move away from the movies and into television in an effort to get more interesting acting assignments.
"I did do a pilot with a friend who wrote 'Band of Brothers,' Erik Jendresen. It was with Lifetime and was a great script and story, but it just didn't come out the way it was supposed to," Griffith admitted. "And Scott Caan just asked me to play his mom on (CBS cop drama) 'Hawaii Five-0.' We did a play together last summer and I adore him."
So Griffith considers herself lucky indeed to have found the movie "Dark Tourist," which taps into the mind of secluded, graveyard-shift security guard Jim Tahna (Michael Cudlitz) and his insatiable obsession with history and death as he embarks on an annual "grief tourist" vacation – tracing the footsteps and childhood of fictionalized 1960s serial murderer/arsonist Carl Marznap.
Tahna's own haunting journey into the tormented mind of a murderer sparks his own mental deterioration and the blurred lines of fascination and fatality, outlined by a chance romantic encounter with a local, small-town waitress Betsy (Griffith) which offers one final attempt at normalcy. Yet Griffith, who has admitted over the years to long battles with substance abuse and has been to rehab several times, found something of a connection with her character.
"Betsy is such a cool character because she is so sad, so lonely in this small town everyone just passes through. She's sober and doing the best she can, walking a very line," Griffith said. "The interesting thing to me was that I think he is going on the same road I am, and he knows that he is not, but wants to. That can happen a lot, not that everyone falls in love with a serial killer, but it is the miscommunication. The things we don't say to each other."
And while Cudlitz pointed out that there is a "grief tourist" hidden within all of us – our desire to visit places like Ground Zero or Pearl Harbor, or even put our hands inside that of a dead celebrity's print at Hollywood's famed Grauman's Chinese Theater – Griffith said her only encounter with a slice of tragic history wasn't intentional.
"I was a grief tourist by accident. One time I was at (director) John Waters's house and he took me upstairs and said 'look, this is the Unabomber's room.' He bought if because of that," she added. "But the idea of becoming famous for killing people, that's f**ked up."
"Dark Tourist" opens in select theaters and On-Demand this Friday.